School Tours 2018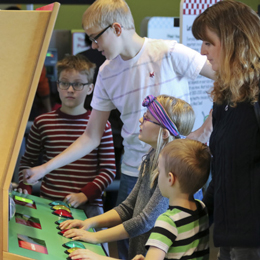 THE SCHOOL TOUR-WHEN LEARNING AND FUN COLLIDE.
School trips stand out in many of our minds as highlights of those halcyon days of our young lives! Memories of special packed lunches, extra pocket money, sing-alongs en route and the anticipation of the long, adventurous day ahead as we neared our destination.
So many positive benefits accrue from teachers and students taking a trip together – not only providing the opportunity to take a break from their normal classroom routine but also creating a fun, bonding experience. Hands-on learning activities outside the classroom often lead to better achievement, standards, motivation, personal development and behaviour in children. School trips not only encourage students to engage with people, places and buildings in new ways but they also enhance learning with latest research showing that children retain a great deal of factual information from these outings. Places like zoos and nature centres often have interactive displays that allow children to touch plants or animals. So between preparation, activities and follow-up activity, learning is greatly enhanced.
Preparation applies to both the student and the teacher. Teachers often take the time to learn about the destination and the subject before the trip and follow-up activities are generally discussions that occur in the classroom.
Now is the time of year to start planning these all-important trips. However the school tour can mean a great deal of work for the teacher, deciding where best to go and how to get the greatest value for the budget, so you naturally want to choose only the best.
With tours available for children from Junior Infants upwards and types of tours as varied as each young individual taking part, our up –to- the minute guide to tours is a must to help you match your destination to the needs of your class. Many of the more traditional tour destinations, such as museums and galleries, are nowadays becoming more interactive, providing a hands-on, child-friendly experience for their young visitors. But newer destinations such as theme parks, outdoor and indoor adventure centres, petting farms and sports complexes are also providing an educational dimension to a fun day out and making learning an integral part of the experience.
At the unique educational tour of the National Sports Campus, for example, children can live a day in the life of an elite athlete through a range of activities including Archery and Water Polo. Students also have fun experiencing a range of sports and fitness activities at AquaZone at The National Aquatic Centre on their famous rides including the Surf Rider Surf Machine, the Master Blaster and the Dark Hole Flume. Children aged 5+ can learn about keeping active at Jump Zone's indoor trampoline park, from individual open jumping on the main 10,000 sq.ft.main trampolining court to high energy trampoline Dodgeball games. All of these healthy and enjoyable experiences can help to teach children valuable lessons for their future lifestyle choices.
So read on below to see which outing gets top marks for your School Tour 2018.
Dinosaurs around the World
MCD Productions and the Ambassador Theatre presents Dinosaurs Around the World which takes you back in time on a dinosaur adventure and a tour of an Earth very different from today – a time before the continents as we know them existed, when lush landscapes covered Africa and greenery was the norm in Antarctica!
With advanced animatronics, a multi-layered narrative, fossils, authentic casts, cutting-edge research and immersive design elements you'll experience the Age of Reptiles as it comes to life!
Dinosaurs Around the World invites you to grab your prehistoric passport to Pangea and discover how plate tectonics, land bridges, and volcanic activity allowed dinosaurs to disperse to all corners of the globe, giving each of the seven continents its own unique selection of these giant reptiles. During their 172 million year reign, dinosaurs adapted into a variety of forms due to the conditions of the areas in which they lived. The exhibition includes examples such as the mighty T. Rex of North America, the swift Velociraptor of the Gobi Desert, the massive herbivorous Amargasaurus from the tropical jungles of South America, and ten others!
In addition to advanced animatronics, Dinosaurs Around the World also features information about the geologic time scale, geology, geography, and climatology of a prehistoric Earth. The exhibition poses questions to the visitor about the reign of the dinosaurs and helps them to discover how they lived on each continent, how they interacted with each other, how geography impacted their behaviour and diets, and what the continents were really like at the time.
SCHOOL AND GROUP RATES AVAILABLE MONDAY TO FRIDAY
Primary Schools: €8 per child / Teachers and guardians go free
Post Primary Schools: €9 per child / Teachers and guardians go freeGroups Over 10 people: €10 per person
Email: group.sales@ticketmaster.ie Phone Group Bookings at Ticketmaster: 01 6486029
AquaZone at The National Aquatic Centre
AquaZone at The National Aquatic Centre, Dublin, is one of the biggest, most exciting and popular attractions for families, groups and school tours in Ireland. Since 2004 the centre has seen almost 9 million people pass through its doors. In 2016 over 1 million people enjoyed hours of fun in Europe's largest indoor water park. The National Aquatic Centre is Ireland's fourth-most popular visitor attraction.
The Leisure Pool, AquaZone, offers extreme thrills, raging water adventures and loads of fun. On this School Tour try the famous Surf Rider Surf Machine. Other Rides include: Master Blaster (water roller coaster), Wave Pool, Lazy River, Bubble Pool, Pirates Ship (for the little ones), Dark Hole Flume (water slide) and the Green Giant Flume. It's the best and most exciting Leisure Pool in Ireland.
AquaZone is an ideal destination for a school trip, offering special group rates, a food option (saves stopping on the way home!), a pre-reserved bookings system, huge bus parking facilities, full accessibility facilities, Rumbles Restaurant and a picnic area. Also, as part of the entrance fee, children can swim in Ireland's National Swimming Pool, an Olympic Swimming area featuring the 50-metre International Competition Pool, Ireland's biggest.
It's the perfect Family day out, open every weekend and all school holidays! Phone 01 6464300, visit www.nac.ie and www.aquazone.ie.
The NSC Experience: Spend a Day in the Life of an Elite Athlete
The Sport Ireland National Sports Campus is the home of Irish Sport and this unique school tour provides all pupils with a chance to live a day in the life of a top class elite sports star! Last year's inaugural NSC Experience completely SOLD OUT so extra slots have been added for 2018.
The day includes the following:
An educational tour of the National Sports Campus including the new Sport Ireland National Indoor Arena
Olympic style sports day, with four exciting sports such as Athletics, Gymnastics, Trampolining & the Multi Skill Challenge! Suitable for all ages and abilities
A visit to the Aquazone Water Park (for over 9s)
There's a full day tour or a budget short day tour, combining an unforgettable sporting experience with educational and amazing fun.
For more information contact: nickycosgrave@nationalsportscampus.ie Tel: 01 6464 330 or see www.nationalsportscampus.ie
Jump Zone
Looking for your next school tour venue????? Jump Zone is Ireland's First and Europe's Largest Indoor Trampoline Park. Located in both Sandyford and Santry, this Irish owned Jump Zone has fast become one of the country's most popular sports and entertainment attractions having catered for more than 700,000 visitors to date! Led by a team of top trampolining athletes, Jump Zone specialises in school tours for kids 5+ years of age looking for a fun and new way of keeping active. Groups can enjoy individual open jumping on the 10,000sq.ft. main trampoline court, and practicing new skills in the foam pit. Fight to the end in their newly fitted Battle Beam in Sandyford, Slam Dunk on their Basketball lanes or high energy trampoline Dodgeball games. The courts are carefully designed to create a healthy and enjoyable experience for all jumpers.
When you book, party hosts will be allocated who will run mini Dodgeball competitions, interactive games, foam pit access and provide refreshments. On arrival, the dedicated staff will lead the group down to the induction area where a safety video is shown and the rules are given. Large groups are then divided into smaller groups and led out to the courts where the fun really begins!
Extreme fun is so important but so is the safety of the guests. At Jump Zone, they do all they can to ensure that your group will have maximum fun with maximum safety! With court supervisors on the courts at all times and heavy duty spring loaded frames covered by 2+ inch thick safety pads, Jump Zone combines fun and safety in all areas to create a fun experience like no other. Groups of up to 200 can be accommodated at one time. For more information see www.jumpzone.ie or phone Sandyford 01 2939356/Santry 01 8623366
Leisureplex
There are times when the value of having fun for its own sake cannot be underestimated. Sometimes a complete unwind from school work can be exactly what the doctor ordered to strengthen the bonds between pupils and teachers, forge new relationships and allow teachers and students alike to let their hair down.
Look no further than the Leisureplex venues to tick the fun boxes. With Soft Play with ball pools and tunnels for the younger school goers in their Zoo Playland to bowling, and Quasar 'great fun with a laser gun' for older groups (Charlestown has all of the facilities except for Quasar), it's the perfect way to let off steam at the end of a school year.
With centres in Stillorgan, Tallaght, Coolock, Charlestown, and Blanchardstown, they provide an action filled adventure for all ages.
For more information and booking contact www.leisureplex.ie
ASTROPARK
Astropark School Tours are a fantastic action packed day out for schools and classes of all ages. With a combination of unique fun experiences, the kids will have an absolute ball – bouncing, rolling, laughing, shooting and tumbling. With flexible supervised packages from only €12 per child, your school can spend the full day on site, or combine with other Dublin tour venues.
The innovative activities include some or all of: Bouncy Inflatable Dodgeball, a Giant Obstacle Course, Nerf Wars (NEW), Target Zone, Bubble Football, Space Hopper Fun Races, Kick Speed Radar, Goggle Football, Combat archery (NEW). You can see videos and photos of all these amazing innovative activities on www.astroparkkids.ie
Your tour activities will vary depending on the age of the kids and the duration of school tour that you wish to do. Minimum numbers of 24 apply for school tours but there are options for smaller groups.
Kids typically bring a packed lunch, but hot food options are also available, ordered in advance.
All activities are also suitable for teenagers and even fun adults, so no excuse for teachers not to join in! For an awesome school trip for kids of all ages, contact Astropark today.
Astropark have two convenient Dublin Locations – (Coolock-Santry) phone 01 8060088, (Tallaght) phone 01 4599822. Both are just minutes from the M50 so are easily accessible.
See also www.astropark.ie
ZIPIT Tibradden Wood, Dublin 16
A high wire forest adventure park with a difference. Situated only minutes away from the M50, but within the picturesque Dublin Mountains, Zipit is a place where children can climb high into the treetops, swing into cargo nets and whizz down ziplines, secured in their safety harnesses. Enjoy an exhilarating and challenging outdoor activity in a natural setting, building confidence, teamwork and self-esteem. Students will feel a great sense of achievement as they conquer each activity, pushing their comfort zones in a safe environment. Big challenges or baby steps, their energetic instructors will encourage and motivate even the most nervous student, creating a lasting sense of achievement. You can extend your day and enjoy the natural forest surrounds in Tibradden Wood which offers plenty of trails and picnic areas throughout the forest.
Cost is €15 per primary student with free participation and free tea and coffee for all teachers. They welcome school children from age 9 upwards, with circuits to suit all ages and levels of fitness. Activities last for 4 hours. For 3rd class upwards, there are three circuits for different heights, ages and abilities. 6th class groups can try out an additional blue circuit for age 12+ which is 10-15 metres above the ground with a 135 metre zipline. Children are fitted with a harness by a trained Instructor and given a safety briefing before moving at their own pace. Zipit operates to the highest EU safety standards. Instructors hold European Ropes Course Association qualifications and are first aid trained. Other Zipit locations are in Lough Key Forest Park, Co. Roscommon and Farran Wood, Co. Cork. Visit www.zipit.ie or contact 051 858008 for further details on Zipit Tibradden Wood, Dublin 16
Alive Outside
Are you looking for an outdoor, active School Tour close to Dublin that your children will love and will be hassle free for you? With packages starting from €15 per person Alive Outside have a huge variety of exhilarating land and water based activities guaranteed to get your class active, muddy & working together.
They had amazing feedback from last year's schools with most of them booking again this year that they have have added much more to their programme. As for you, the teacher – you can get as muddy or involved as you like or alternatively leave your gang in the capable hands of their instructors and enjoy a walk around the beautiful Killruddery Gardens and a complimentary coffee. For more information on school tours (www.hellandback.ie/SchoolTours.html) please contact Ali Coffey – 087 1855965 (ali@aliveoutside.ie)
EPIC CHQ
EPIC The Irish Emigration Museum in Dublin's Docklands tells the unforgettable story of how the Irish influenced and shaped the world. Following a bespoke orientation session, your EPIC Tour Guide will bring your students on a journey of discovery in the world's only fully digital museum. Learn about why 10 million Irish people left their homeland. Explore the 20 interactive galleries using technology to bring to life the incredible stories of over 300 Irish people, past and present. Shortlisted for European Museum of the Year 2018 and Children in Museums Award 2017. The GENEius workshop at the Irish Family History Centre encourages your students to take the first step into their own family story through hands-on activities, historical detective work, technology and the creative arts. It explores many themes of family history and ties in with several different strands of the primary curriculum. Post visit resources are available for those who wish to explore their family's fascinating journey as part of a class project. "It was very interesting and the activities are amazing. I can't wait to go back with my family :)"- Pupil from St Brigid's GNS, GlasnevinFor More Please Contact Chiara (01) 906 0861CHQ, Custom House Quay, Dublin 1
Russborough House & Parklands
Russborough House & Parklands is a stunning Palladian Mansion. The house was designed by the German Architect Richard Cassels and built in 1741. It has the longest façade of any house in Ireland stretching over 700 feet across the Wicklow landscape and an 18th century walled garden opening for pre-booked groups.
For Primary school tours there will be a tree trail taking in approximately 8 -10 trees on the Demesne.
One of the oldest trees is called a Wellingtonia (Giant Sequoia) planted in 1861 by the then Prince of Wales and Earl of Dublin.
The tree trail will form part of a school tour for Primary children ages 5 to 8 years. It will also take in
The Fairy trail, Playground & Maze. For older children aged 9 to 12 years a guided tour of the house will be offered together with the Maze and Playground. A 2 km Audio walking tour of the Demesne has also been added which adds to the overall fun. A lot of work has been taking place at Russborough throughout the winter, so don't miss the opportunity to visit the improved Tea rooms and gift shop.
Children can also view some of the British & European Masters, purchased by the Earls of Milltown in the 18th & 19th centuries, in the very rooms for which they were commissioned.
Russborough 'Where History & Culture live on' Come visit them!
www.russborough.ie email info@russborough.ie tell: 045 865239
Dublinia
Education at Dublinia, one of Ireland's top school attractions, involves the learning, research and sharing of information on Dublin City's Viking, Medieval, and Archaeological history.
There are a wide range of learning facilities at Dublinia for all primary and secondary schools. The authentically costumed guided tours are age and ability specific to ensure classes get an individually tailored educational experience based on teachers' learning goals whilst also paying particular attention to areas relevant to the curriculum.
With many resources for teachers including Learning Packs, students can learn in a multisensory and unique way. This encourages all students to engage with the exhibitions in Dublinia and also gain both analytical and social skills.
They also have an exciting online learning programme for primary schools. Dublin's Viking and Medieval history is brought to life in schools and classrooms through online learning on an audio-visual interactive website. It includes animated videos, an interactive animated map of Dublin and multiple choice quizzes. This ground-breaking learning experience is an invaluable resource for the teaching of history in Ireland. This online learning platform will be accessible from Dublinia's website.For more see www.dublinia.ie or call 01 6794611
Glasnevin Cemetery – Ireland's History Carved in Stone!
Glasnevin Cemetery Museum offers exciting and engaging education programmes and activities for primary students, closely linked to the school curriculum. Students and teachers can make use of interactive exhibits and interesting learning packs which are sent out prior to their visit. The museum and its educational activities explore the diversity of Irish life since 1800 through the stories of the famous (and not so famous) people who are buried there.
Why choose Glasnevin for a Primary School Tour?
Curriculum-based history tours of Glasnevin Cemetery
Exploration of interactive exhibits throughout the museum
World War One Tour and Artefact Handling Session
Tours are available in Irish
Free entry for teachers/group leader
Free on-site coach parking
Cross Curricular Tours can be tailor made to match the interests of your class
All school groups booking with Glasnevin Cemetery Museum are sent learning packs and classroom activities for use in the classroom before or after a visit, and students obtain access to Glasnevin's unique Genealogy Records. This allows students to work as a historian at home or in the class.
Contact Glasnevin today and bring your class to see Ireland's history carved in stone!
www.glasnevinmuseum.ie Email: bookings@museum.ie Tel: (0)1 882 6550
St. Patrick's Cathedral
Take advantage of their FREE Schools Programme and bring your class to visit Ireland's largest Cathedral and one of the most important pilgrimage sites in Ireland. Saint Patrick's Cathedral has been at the heart of Dublin and Ireland's history and culture for 800 years. Book your visit to explore its story, which can also be seen as a microcosm of the story of Ireland itself. It is a superb example of medieval gothic architecture that has withstood wars, revolutions and reformations. Whether your interest lies in religion, history, art, architecture or music you will find something to interest you in the Cathedral.
What can your group do during a visit?
Free Self-guided tour: the group leader brings the group around the building
Free Guided tour: the Cathedral's dedicated Education department staff will bring your group on a tour of the building
Free Workshop: After their tour, your group can take part in an interactive activity based around the life and history of the Cathedral.
Pre-booking is essential for Free school visits to the Cathedral, so contact the education department today to arrange your visit:
Andrew: education@stpatrickscathedral.ie
Ciara: edassist@stapatrickscathedral.ie
WATERFORD TREASURES – EPIC TOUR OF THE VIKING TRIANGLE
The award-winning all weather guided tour of the oldest part of Ireland's oldest city, the 'Epic Tour of the Viking Triangle' , is an interactive fun guided tour of the Viking Triangle, taking in six national monuments within one hour. The larger-than-life guide speeds you through the streets and through 1100 years of Waterford's history from the Vikings to Victorians!
Discover Reginald's Tower, Greyfriars Medieval Franciscan friary, Choristers' Hall, the Mayor's Wine Vault, Bishop's Palace, and (if a church service is not in progress) Christ Church Cathedral is also included. It's a fun, engaging tour with many props to engage and entertain children, and numerous photo opportunities along the way. Don't miss the 'Mayors through the Ages, Eight Centuries of Civic Government in Ireland' at City Hall.
Bookings 0761 10 2501 or email: bookings@waterfordcouncil.ie www.waterfordtreasures.com FB: WaterfordTreasures Twitter@WFORD_Treasures
The Irish National Stud & Gardens
The Irish National Stud & Gardens are excited to launch their new interactive 'Kick Back to Nature Tour'. Their school tours provide a unique opportunity for school children to get up close to horses and wildlife in a relaxed and natural environment. There are two types of tours available, 'The Wonder of the Horses, from foal to legend' and 'The Wonder of the World, nature and horses combined'. Visit to learn about this fascinating industry and enjoy hours of pure freedom. Watch children interact on a 45-minute tour of a working stud farm and afterwards they'll enjoy a fun, activity session in a classroom where they can touch and try on a range of equestrian equipment. For those looking for a wider variety, the Irish National Stud can also tailor a tour to include the Paddy Madden Nature Trail. This tour is perfect for older classes and will encourage them to think about conservation, pollination and habitats required for wildlife to thrive. After the classroom session, the group can enjoy exploring the gardens, the fairy trail and having fun in the playground.
For more information visit their website at wwww.irishnationalstud.ie.
The National SEA LIFE Centre
The National SEA LIFE Centre, located on Bray Seafront, is the perfect school tour venue, whatever the weather. SEA LIFE is swimming with over 1000 amazing animals, 100 fascinating species, and is home to Ireland's largest collection of sharks.
New for 2018, explore the amazing world of the sea star as they introduce you to Ireland's largest collection of these amazing creatures. Get to meet the world's most poisonous (and one of the largest) sea stars, the Crown-of-Thorns. Whether you choose their Standard tour, or upgrade to their Premium package (subject to availability), SEA LIFE provides an educational visit quite different from any other: It is interactive, informative and most of all, FUN!
BOOK YOUR TOUR TODAY ON (01) 8366939 www.sealife.ie
School Tours at Imaginosity, Dublin Children's Museum
Imaginosity is the perfect place for a school visit this school tour season. Each of the 18 interactive exhibits within the museum have been designed to complement the curriculum bringing it to life in a fun, engaging, interactive, learning environment. An accredited Discover Centre, all programming at Imaginosity reinforces their commitment to education and learning. Educational workshops are on offer as part of School Tours year round (excluding May & June) and include: Dr.Osity's Body Science Show, Bubble-Osity, Fairy Tale Math Quest, Blast Off Science and Growing & Thriving Interactive Story-time. To book your visit please call 01-2176130 or visit www.imaginosity.ie for further information.
Wooly Ward's Farm
Wooly Ward's Farm is delighted to be opening its gates for school tour season this year.Tours will start from the 25th of May and will run right through June.Favourites such as pony rides, animal petting, Thomas the Tank engine, arts and crafts and cupcake decorating will all be on offer.This year Scary Mary will be introducing all the children to the honey trail and giving them a taste of home produced honey from the farm.The tour is a 3-hour event and the price is €10 per child.Of course, they won't forget the home-made cakes and scones for all the teachers!Wooly Ward's Farm only takes 6 classes of children per day which makes it a very personal and intimate setting.Places are filling up fast so book early to avoid disappointment.You can contact June in the office on 0873676787 or email info@woolywardsfarm.com.
Fort Lucan
Fort Lucan is a fully supervised outdoor adventure playground for children aged 2-12 years.
School Tours 2018 ONLY... Each child who visits with their school tour, will receive a Golden Ticket for a FREE return visit!! (Ts &Cs apply).
New for 2018, is their 15m high Helter Skelter!! Inside Fort Lucan, kids create their own adventures as they discover huge towers, 40 foot slides, sky-high walkways, zip lines, a maze, army-style assault course, ground level trampolines & go-kart tracks. Not forgetting the Crazy Golf and the 3 famous WATERSLIDES!
A great day out for all the family during the Easter Holidays - Bring a picnic or eat at the Fort Lucan cafe, selling hot food, sandwiches, tea, coffee etc., or treat yourself at the ice cream and sweet shop.
School tour price €11.50 Teachers go Free. For full details and pricing visit www.fortlucan.com or call 01 6280166
INDOOR FUN at Tricky Tricksters Magic Castle
It's hard to believe but it's tour time once again and Tricky Tricksters Magic Castle in Naas Co Kildare are ticking all the boxes for 2018. Book a tour, any tour for your school & each teacher in attendance will receive a special teacher treat on the day. Tricky Tricksters cater for all ages from pre-school to 12 years of age. Stand-out features include bumpy boats, carousel bouncy castle, sumo, soft ball soccer zone, the ball volcano, floor & wall games & their super laser storm laser tag arena. Their super-sized soft play structure is certain to test your fitness on the astra slides, aerial runways, monkey rings & climbing frames. Book for 70 or more kids & get a free magic show when you spend €11.50 or more per child!!!Book early to avoid disappointment!
Tel: 045 409192 www.magiccastle.ie/
Go Kids Go
Go Kids Go! offer great value school deals with activities for all age groups. Facilities include three levels of interactive play equipment, including slides, ball pools, rope climbs, hopscotch, an indoor football/ basketball pitch, ball cannon arena with targets and foam balls, disco room, and full cafe facility. The tour is 2.5 hours long, including 90 minutes of play in the interactive adventure play frame, 30 minutes in the activity room with a leader on organised activity, and 30 minutes to eat lunch. Options available are 2.5 hour tours including play and activity; €7.50 or a 2.5 hour tour including play, activity and food for €11.50. Located only 5 minutes from the M50 at exit 6 in Blanchardstown.
Book early to avoid disappointment by phoning 01 640 5500. www.gokidsgo.ie
The Chocolate Warehouse School Tour
The Chocolate Warehouse is celebrating 16 years of chocolate workshops and school tours. The two hour tour tells the story of chocolate from the Aztecs to the present day. A 20-minute film shows the journey of the cocoa beans to the factory and the process the beans go through to produce chocolate. Enjoy the demonstration of how chocolates and Easter eggs are made. Then the 'fun part', where visitors get to decorate and package chocolates to take home. At the end of every workshop they have a short quiz and every visitor receives The Chocolate Warehouse Certificate. Ideal for school tours, group bookings, summer projects, birthday parties, and age-appropriate educational workshops. Prices are €12.50 per visitor (teachers free), with group rates for schools. Max of 70 visitors. Pre-booking essential. The Chocolate Warehouse is just off exit 10 on the M50 on the Greenhills Road, Walkinstown, Dublin 12. Phone 01 450 0080, email info@chocolatewarehouse.ie or see www.chocolatewarehouse.ie.