Easter and Summer Camps in Dublin and Leinster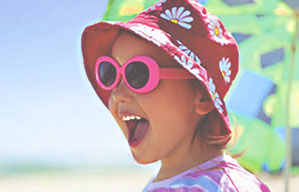 Alliance Francais Easter Camps 2019
Children will discover the magic of spring focussing on nature and plants, with gardening, chocolate, and Easter eggs on the menu!! The classes will be led by the best native, highly-qualified and experienced French teachers. Please note that lunch à la française is included in the price. All children are welcome, regardless of their level of French.
Date: Mon 15th to Wed 17th Mar | Time: 9.30am to 2pm | Age & Cost: 4-6 years old & 7-10 years old: €119
Alliance Francais Summer Camps 2019
Children: Weekly Camps from: Dates: every week 1st July – 30thAugust | Time: Monday to Friday 9.30am - 2pm | Cost: €230 per week
Ages: 4-6 year olds & 7-10 year olds For more information contact info@alliance-francaise Contact: www.alliance-francaise.ie/children
Lego Themed Holiday Camps
Bricks 4 Kidz LEGO® Easter Camps have been designed to engage children in learning's of Science, Technology, Engineering & Maths (STEM) for girls and boys aged 5-12 years in a fun and entertaining way. Guided by our experienced teachers, children will enjoy using LEGO to build specially-designed Bricks 4 Kidz motorised models, while also learning the principles of STEM.
Themes such as Super Heroes and Jurassic Park guide the programme for the Classic Brick Builders while Builders get their creations moving with motors and gears completing LEGO® technic models all of which have been designed by architects & engineers.
As well as their Lego themed camps, Summer camps will include July Provision week, Junior camps aimed at younger builders as well as Robotic camps for the older children.
Camps can be booked at www.bricks4kidz.ie/fingal-santry/
For further details, contact Joanne on jhartnett@bricks4kidz.com or call 01-6855700.
ASTROPARK EASTER CAMPS
At Astropark your child will get the best of both worlds with fantastic soccer coaching along with the fun of multi-activity games and bouncy games. Soccer coaching includes: Dribbling Skills, Passing Skills & Shooting Skills.
Other activities include: Astrobounce target zone, obstacle course, bouncy football, bubble football, NERF Wars, kick speed radar, Combat Archery, basketball, unihoc, sports day style races etc. (some activities are age restricted). Venues in Tallaght and Coolock.
Dates - 15th to 18th of April & 23rd to 26th of April
Price - €75 per child for a four-day camp
Call Coolock on 01 8060088 or Tallaght on 01 4599822 to register. See also www.astropark.ie Email: info@astropark.ie
EASTER CAMPS AT IMAGINOSITY
Join them for two fun packed weeks of kids camps. 15th-19th April: 'Hop-A-Long Easter Camp' and 22nd-26th April: 'Slimy Science Camp', both camps will run for children aged 4-6 years (9am-1pm, €120 for full camp week) and for children aged 7-9 years (9am-2.30pm €135 full camp week), daily rates are also available. To book please call 01-2176130, or log onto www.imaginosity.ie
Pembroke Fencing
Pembroke Fencing at St. Conleth's College, Ballsbridge.
These camps are suitable for children and teens, boys and girls who have never experienced fencing before as well as for those who have some basic fencing knowledge.
Each class is taught using plenty of games to improve speed and co-ordination, develop specific fencing skills and tactical thinking. Kids learn fencing blade and footwork, rules of courtesy during a fencing bout and refereeing skills – all of that of course while doing plenty of sword fighting! Classes are suitable for beginners and improvers and all equipment is provided. Bring lunch and a drink with you.
Easter Camps Ages: 7 -16 years Dates: 15th, 16th, 17, April Time: 10.am – 2pm. Cost: €100
www.pembrokefencing.ie email info@pembrokefencing.ie Tel: 086 2160646
Summer Camps Ages: 7 -16 years 3 Weeks from 1st July - 19th July Time: 10 am -2pm. Cost: €140
Book Now for The Kings Hospital Summer
The King's Hospital Summer Camp includes the following activities: karate, swimming, athletics, soccer, tennis, basketball, archery, orienteering, hockey, tag rugby as well as some fun and games! All activities will take place on campus in their highly-equipped facilities.
The aim is to provide a fun filled camp while also encouraging the child's competitive spirit in his/her own age group. To book: Tel 01 6436537 or email sportscamps@thekingshospital.ie www.kingshospital.ie
Mezzo Music Academy
Easter Camps at Mezzo Music Academy, offer a wonderful opportunity for children to explore many different instruments over the course of the week.
For ages 4 to 11, students are grouped in accordance with age, and will learn in small groups; keyboard, guitar, violin, recorder, ukulele, percussion and voice, each day.
At the end of each week, students choose their favourite instrument and take part in a small performance for their parents. All instruments are taught by ear and with an emphasis on fun! At the end of each day, everyone comes together for group singing, where teachers play instruments and students sing a variety of songs from different genres.
All camp teachers are fully qualified and experienced.
Camp starts at 9.30am and finishes at 2.00pm. Bring a packed Lunch.
Mezzo are also running Teen Band Workshops for ages 12-14 and 15-18 over the Easter Break. Instruments provided are drums, electric, acoustic and bass guitar, keyboards & vocal coaching. All students are encouraged to play off the cuff, be creative, improvise and take part in song writing and arranging. For more details see our website www.mezzomusicacademy.ieTel: Sonya on 087 8170666 or 01 6852590 for further details
Columbus Club
Columbus Club is providing ten action packed camps this Easter.
Camp1: Arts & Sports Camp Camp2: Multi-Sport & Fitness Camp:
Camp 3: Baking and Sewing/Knitting/Embroidery/Crochet: Camp 4: Junior Engineering, Lego & Science/Chess Camp: Camp 5: Computer Coding & Science/Maths/Engineering Camp (STEM): Camp 6: Animation & Art Camp (including Computer Animation): Camp 7: Film & Cinematography & Drama Camp: Camp 8: Creative Writing/Junior Toastmasters/Presentations: Camp 9: Irish Easter Camps: Camp 10: Spanish Camps.
As always, Columbus Club provides 1:1 classes in Reading, Comprehension Work, Maths and Gaeilge daily over the Easter and Summer holidays.
New: Easter Maths Classes for second year students (sec. school students)
(9am -12.30pm) & Irish Classes for second year students: (12.30pm -3.30pm)
Tel 087-4167740 - 087-2361869 www.columbusclub.ie
Dublin Stage School
Dublin Stage School Summer Term and Camps are now live and with Early Booking Offer on our Camps, BOOK NOW! Dublin Stage School believes in the potential of every student and their greatest achievement is giving students the chance to be creative in a fun safe environment. They offer students the opportunity to make new friends help their confidence grow and blossom and teach them the many different age-appropriate challenging ways of the arts. All staff are Garda-vetted and there are no more than 17 students enrolled in any one class. Students may also have opportunity to work professionally. Classes are broken down in to groups determined by age: Junior school 4 to 6 yrs and Senior School 6yrs+.The schools in Blackrock, Castleknock & Killiney have a diverse mix of students with international as well as local children partaking in classes during term time and summer camps. For further information on weekly classes and new students two week trial, camps & locations visit www.dublinstageschool.ie Summer Term starts: Thursday 25th April to Sunday 16th June 8 week term & Summer Camps from 1st July to 2nd August on Blackrock & Castleknock. Places offered on First Come First Served basis -
Book Now! 01 2043814 or 2722276, info@dublinstageschool.ie
The Mel Ryan School Easter & Summer Camps
Mel Ryan started her school in 2011, with the intention of using the medium of the arts to teach valuable life and social skills such emotional intelligence, leadership, resilience, empathy, and communication skills through music, drama, dance and presentation.
Two different styles of class are available – Musical Theatre & Hip Hop and Dream Believe Achieve. The Musical Theatre & Hip Hop is a fun-filled class which culminates in the children performing in the annual show in the Mill Theatre, Dundrum. The Dream Believe Achieve class is held in small groups and is more individually focused. This class has been wonderfully successful, particularly in working with shyness or anxiety issues.
The school prides itself on its ethos – that of treating every student equally regardless of standard of performance with drama exercises being specially adapted to have a definite social skills and life skills learning outcome.
All teachers are highly trained, professional actors and dancers who are equally passionate about teaching life skills.
The school, which has grown from 2 to 350 students in 7 years offers classes in Mt Merrion, Stillorgan, Carrickmines and Monkstown.Due to overwhelming demand classes are now available in their fifth venue, the Star of the Sea Hall, Sandymount. More at www.melryanschool.ie Phone: 086-8372364 Email: melryanschool@gmail.com
Junior Einsteins EASTER CAMPS
Junior Einsteins EASTER CAMPS are one day only in various locations
Some Examples of their activities this Easter include: EGGsperiments ! Floating egg, egg smashing, egg physics, walking on eggs!, Egg engineering. Science Camps are very hands-on and children get to make and take home something most days - including their own SLIME, FOSSILS, MODEL GLIDERS, RAINBOW GLASSES and MORE! They wear lab coats and goggles! There's also lots of OUTDOOR Fun with Bug Hunts, Rocket Races, Dinosaur Digs! All camp leaders are experienced scientists, fully insured and Garda vetted.
Children are separated into ATOMS : 6-8 years and MOLECULES 9-12 years but will be in the same room together. Times: 9am – 2pm | Ages: 6-12 years | Cost: €45 per child
TO BOOK: Please book and pay online www.junioreinsteinsscienceclub.com Click 'Book Camp'
Book and pay online www.junioreinsteinsscienceclub.com
For Clubs, Super Whole School Science Shows, Science Hallowe'en, Easter & Summer Camps, Science Parties, Science Corporate Events, and Science Family Events & Festivals.
Junior are a proudly Irish owned Company.
Dublin, Galway, Cork, Kildare, Meath The Midlands
National & International Franchise opportunities available:
Our mission is to nourish a lifelong love of learning through Science in all our children ( 'Junior Einsteins' ), igniting their natural curiosity by providing, exciting, engaging, experimental practical STEM experiences, professionally delivered in a Structured, Safe, Supervised, Educational and Fun environment.
Winner First prize International VOOM 2018 Richard Branson Virgin Media Business Award
Shortlisted for IMAGE business woman of the year 2016 Ireland
Keynote speaker School summit 2018
Keynote Speaker Northern Ireland Women in Business awards 2018
Owen Casey Tennis Camps
Top Irish tennis coach and 3 time Olympian, Owen Casey is delighted to announce details of his Easter and Summer tennis camps at Mount Pleasant LTC in Ranelagh, weekly in April, June, July and August from 9.30 - 12.30pm for children aged 5-16. The camps will offer quality tennis coaching from basic technique to match tactics, for both singles and doubles in a safe and friendly environment. Fantastic Babolat goody bags for all. To request a brochure contact Owen on 087-2903161 01- 4999167 or email owencasey@iol.ie.
Summer Camps 2019
CP Adventure at Russborough House
Go and spend a week with them during the summer months learning new skills, making new friends and above all having fun and making memories in their brand-new adventure centre in Russborough House just 5km from Blessington. Activities to include both land and water activities. Little bear Camps Ages 5-7, Bear Ranger Camp Ages 8-13 & Bear Survival Camp Ages 13-17 which includes overnight camping on one night . Camps running all summer please contact us for details and brochure on info@cpadventure.ie or 087 4662252.