FRUITION FROM TUITION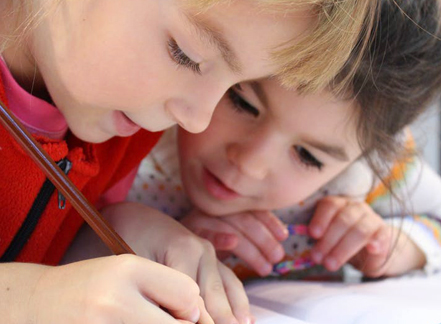 A new term can be quite a daunting proposition for many children. It might mean a new school, new friends, a new teacher, not to mention a whole world of new information to learn and understand. Whilst the summer holidays can be glorious, halcyon days without a care in the world, they can also cause a little brain drain, which can leave children feeling a bit out of their depth when they return to class. Naturally schools do their best to encourage and support their children, but some additional tuition can help to sharpen the mind and serve as a reminder for children and get them back up to speed.
Many children find it valuable to have some additional tuition during term time. Away from the distractions of the classroom, focused learning and different approaches to difficult concepts can help comprehension and confidence and hopefully get a child to that "Eureka!" moment. One to one tuition can help with subjects that perhaps a child finds difficult, but it can also accelerate learning in areas that they find of particular interest and reduce stress. If you are considering private tuition, it makes sense to concentrate on one or two subjects at most to ensure that the focus is on the subjects in most need of attention.
Education needn't come in the shape of one to one tuition. Clubs and extra-curricular activities, whether in school or out of school are also a good way to learn social skills, make new friends, increase confidence and encourage teamworking. Of course, additional tuition and camps are not essential, simply encouraging your child to lose themselves in something they love to do, be it writing, drawing, photography, music, or building dens will help them to develop. Ultimately, finding a balance is important, because a love for learning needs to be nurtured and encouraged carefully.
Try Kumon's two-week Free Trial now! With nearly 60 years of experience, the Kumon programmes enable children to take on new challenges with confidence and to develop their study skills. Kumon believes that this opportunity to grow on both an academic and a personal level should be available to all children. This is why, between 1 October and 20 November, they are offering a two-week Free Trial at participating centres across Ireland. Your child can experience how the Kumon Maths and English Programmes help children of any age and ability tobecome confident, independent learners with a positive attitude to study. Your child will be assessed so your Kumon Instructor can tailor the level of study precisely to their ability. This creates a positive learning experience, with work set at just the right level. Enrol your child now on the two-week Free Trial to get a glimpse of how Kumon could help develop their abilities for the future.
If you would like more information please contact your local Kumon Instructor who will be able to tell you about the two-week Free Trial on 1800 523 191 or by visitingkumon.ie * Terms and conditions apply
Languages
Alliance Francais award-winning programmes for Toddlers and Children are available for every age, from 12 months to 12 years old, and levels, from complete beginners to bilingual, throughout the year: 16 week terms, one-off workshops, holiday camps, summer activities and more! All the classes are harmonised with the Common European Framework of Reference for Languages so that children have the option of taking the exams of the DELF (Diplôme d'Études en Langue Française) Primaires & Juniors the official diploma valid for life and internationally recognised.Teachers looking for ideas for a school tour? Why not try a day in Dublin where children can experience a typical French day? Visit the Alliance Française and The French Library, watch a French film, or enjoy one of a number of custom-made workshops. The Alliance Française Dublin is uniquely placed to provide Primary schools with French language training and activities. French native-speaking teachers can lead workshops, fun activities or cultural presentations during school hours or after-school. From home discover the revolutionary Culturethèque, the official digital platform of the Alliance Française, over 150,000 online documents including French books, novels newspapers, magazines, music recordings, audiobooks, films, documentaries, games, learning modules and much more!
For more information please contact: Bérengère Langlois blanglois@alliance-francaise.ie 01 638 1444
info@alliance-francaise.ie
Instituto Cervantes is the largest international Spanish teaching organization in the world, established by the Spanish government to teach the Spanish language around the globe and to promote the Spanish and Latin American culture. Their highly qualified native teachers hold advanced degrees and are experienced professionals in child education. In September, they start their weekly courses for monolingual and bilingual children that will take place on Wednesday afternoon and Saturdays. Participants will enjoy learning Spanish in a friendly atmosphere where everyone can gain a new experience different from their daily activities. Instituto Cervantes also specialise in Junior Cert.TY and Leaving Cert. courses, concentrating on providing the student with adequate linguistic competence in Writing and Reading Spanish, Conversational Spanish, Oral and Aural skills
Last but not least they organize workshops and activities for children all through the year. Intro to Circus for children, Chess for children, and Traditional Folk Dance from Perú. Check out their webpage www.dublin.cervantes.es regularly for information. or Tel 01- 631 15 24
Science
Junior Einsteins are innovative and passionate about bringing a love of science and learning to primary school aged children. They bring the WOW factor to the science facts! Their inclusive, hands-on approach is unique. The children make and do their own experiments, wearing their lab coats and goggles, using real scientific equipment including a university grade Van Der Graff Generator. Junior Einsteins Science Club teaches the core aspects of Physics, Chemistry and Biology through 'make & do', messy experiments, quizzes and games. Their small group of hand-picked scientists are Garda cleared and Insured. Some of their activities include: Slime making Long-chain polymerisation , Newtonian & Non-Newtonian fluids) ( punch slime – learn about liquid armour that the army use) Smoke cannons (Force, Vectors) ( shoot each other) Model gliders (the principals of flight) & rockets. They also provide Science Parties, After-School Science Clubs, Science Workshops & Demonstrations, Super Science Show , Camps and Corporate Science Events.
See www.junioreinsteinsscienceclub.com | phone 085 8641959 | email junioreinsteinsscienceclub@gmail.com
Imaginosity
Dr.Osity's After-School Science Class at Imaginosity
Join crazy Dr. Osity for a 13 week after-school term of FUN packed interactive hands-on scientific learning at Imaginosity, Dublin Children's Museum. Every week the classes will include hands-on experimentation, from 'Scientific Slime' & 'Moving Galaxies', to chemically 'Growing Snakes' and much more! Class takes place every Wednesday from 3-5pm commencing 13th September for a 13 week term (excluding mid-term) Ä120.
Visit www.imaginosity.ie for more information.
Fencing Classes
Pembrokefencing
These classes are suitable for children and teens, boys and girls who have never experienced fencing before as well as for those who have some basic fencing knowledge. Each class is taught using plenty of games to improve speed and co-ordination, develop specific fencing skills and tactical thinking. Kids learn fencing blade and footwork, rules of courtesy during a fencing bout and refereeing skills - all that of course while doing plenty of sword fighting! Children can take part in various competitions for their club, their school and maybe even the country. For Registration tel 0862160646 or email info@pembrokefencing.iewww.pembrokefencing.ie
Ballet
Nadia Quick School of Ballet
Classical Ballet is a healthy and fun form of exercise for all! The Nadia Quick School of Dance, established in 1968 provides a high standard of training for children and students preparing for the Royal Academy of Dance Ballet examinations. There are also opportunities to take part in shows, workshops and competitions. All of the students taking both Vocational and Grade examinations were successful again this year. Nadia is a Life Member and Registered teacher of The Royal Academy of Dance and a Fellow of The Imperial Society of Teachers of Dance. Classes take place in the Teresian School, Donnybrook The new term resumes on Monday the 4th September. Classes for 3 to 5 year olds resume Saturday 9th September.
For further information Tel Nadia on 01 2859365, 087 6905881 or email quick.nadia@gmail.com mailto:quick.nadia@gmail.com
KC Dance Academy
The school has been operating in Deansgrange for over 30 years and became KC Dance Academy in 2007. They welcome boys and girls from 3 years of age. The school offers classes in classical ballet and gives children the opportunity to take the Royal Academy of Dance (RAD) ballet exams if they would like or they can just take classes for fun. They also offer Modern Dance classes and a chance for all students to take part in their school shows which take place in the Pavilion Theatre, Dun Laoghaire. The next show is booked for February 2018. All classes are taught by the principal, Karen Cummins, for consistency. KC Dance Academy are opening at a NEW VENUE this year in St Joseph's parish hall in Glasthule. They also like to give back to the community and have done shows in local nursing homes and at the Laura Lynn Foundation. Learn to dance, make friends, build confidence, improve posture and most of all have fun. There are lots of reasons to join the KC Dance Academy family!
For more information contact Karen on 2116829 or 087 7792457 or kcdanceacademy@gmail.com
Sylvia Behan School of Dance
Sylvia Behan School of Ballet is a long established school which provides a high standard of training for children from age 4 years. Students are prepared for Examinations of the Royal Academy of Dance (London) in both Grade & Vocational. Students also have the opportunity to dance with visiting ballet companies, festival, church services, and TV and school performances as well as the end of year show. All classes are taught by qualified teachers and assistants. Tel Sylvia on 01- 838 5255 or 087 -2478570
Drama
Dublin Stage School
For 3 hours a week - Senior School 6-18yrs or 2 hours a week - Advance School 15-20yr or 90 minutes - Junior School 4- 6yrs children and teenagers learn the skills to sing, dance and act, young people learn to express themselves more easily, gaining confidence and self-awareness. These skills learned while students enjoy themselves do not disappear when they come off stage, they are skills for life. Senior Classes 6-18yrs held on Thursdays and Saturday in Blackrock, Saturday in Castleknock & Sunday in Killiney Advance Class 15-20yrs Fridays Only in Blackrock. Junior Classes 4-6yrs held on Saturday in Blackrock & Castkeknock and on Sunday in Killiney. No experience necessary just imagination and enthusiasm! For more information contact Evan or Emma on
01 2043814 or 01 2722276 or email info@dublinstageschool.ie w: www.dublinstageschool.ie
Music
Mezzo Performing Arts
With over 6 years providing musical excellence in Terenure, Mezzo Music Academy are launching their brand new Performing Arts group. Weekly classes will involve the development of confidence, giving children a sense of how to be comfortable with themselves and their abilities (whatever level that may be), and also learning to be comfortable on stage. Performing Arts Classes will develop the child's ability to represent and communicate emotions through spoken dialogue, body movement, song and physical expression. Children will work as part of a team and will enhance their social skills in group situations, as task management and the ability to follow instruction, leads to personal and group affirmation. There are also opportunities with improvisation and self direction within classes, as it is important to develop all aspects of theatre in order to provide a more rounded training - and children love the idea of feeling that they play a part in their own development. Classes run on Tuesdays 3.30pm - 4.30pm.
For further details tel: 01 6852590/0878170666, info@mezzomusicacademy.ie
Dun Laoghaire School of Music
Children's World of Music are fun classes especially designed for children between 3 – 6 years of age. Children learn and are actually involved in the whole world of music. They learn to read and clap rhythms, speak music vocabulary and sing dance, act and play to the music of Beethoven, Tchaikovsky and other greats. There are ear and aural training games, percussion instruments and lots of catchy action songs.
There are also lots of opportunities for concert performances during the year and small intimate music displays for parents, grandparents and friends.
For further information please contact Catherine on 087 2373739
Dublin School of Music is a 'family' of people who are passionate about music, who want to make learning music accessible, affordable, convenient and, above all else, fun! They've been teaching students from all over the south side of Dublin since 2003 from their school in Terenure. Now for September 2017 they are bringing the same high quality tuition to the people of Malahide. Based in Scoil Iosa, the Malahide Community School that has loads of free parking and is accessible by public transport.So, whether you'd like to give your kids the gift of music – a gift that lasts a lifetime – or want to take some lessons for yourself, their doors are open.
For more information call 014929998 or email info@dublinschoolofmusic.com. They look forward to hearing from you!
Theatre
Irish Theatre Workshop
Love to sing, dance and act? ITW is the place for you! The Independent Theatre Workshop offers classes in all areas of the Performing Arts including Acting, Singing, Speech and Drama, Youth Theatre, Musical Theatre and Dance – including Hip Hop, Ballet and Contemporary Dance for students ages 3-18. Classes run in 3 locations: Ranelagh, Clonskeagh and Drumcondra during term time and intensive courses during the school holidays catering for students of all abilities. ITW offers exam classes in Speech and Drama and Singing as well as Musical Theatre Dance. Junior Cert and Leaving Cert. music exams practical preparation is also available at ITW. Build your confidence, play in the studio, release your energy and above all – have fun. Independent Theatre Workshop
Tel (01) 260 0831/(01) 219 6842 www.itwstudio.ie
Sport
Table Tennis
Have you considered Table Tennis? It's great exercise, competely non-contact, both fun and competitive – the Olympic sport that fits into your school hall brings out the best in many children: From 2nd or 3rd Class onwards, table tennis helps with developing hand-eye co-ordination, is easy to pick up, yet a challenge to master, and it sees many kids competing in the ever-growing Leinster Schools' League and beyond. While they aim to promote the sport all-year round, Leinster Table Tennis would also like to team up with an – ideally combined all-girls primary and secondary school for a pilot project: their plan is to assist with developing the sport in your school, boosting player numbers and making it a sustainable sport for years to come.
Interested? Do get in touch: henrikheckmann@yahoo.co.uk, LTT Participation Manager