Festive Fun in Munster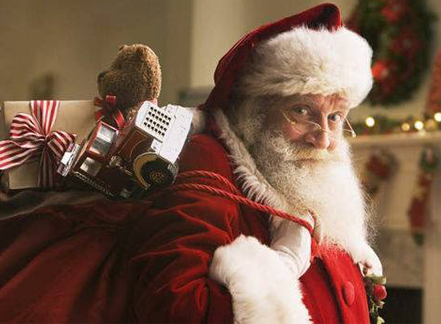 Waterford Winterval
Ireland's oldest city transforms into Ireland's Christmas capital! Throughout Waterford Winterval, the Viking Triangle and the retail heart of the city come alive with Christmas markets, Santa's Kingdom, Winterval illuminates light show, a new bigger ice rink at Winterval on Ice and so more for young and old alike. Free and ticketed events – find out more by email: info@winterval.ie and visit www.winterval.ie
Sat 18th Nov – Sat 23rd Dec
FREE Santa at Perks Youghal
Santa will be at Perks Entertainment Centre Youghal every Saturday and Sunday from 2-6pm right up until Saturday 23rd December. You can visit Santa for FREE in his grotto and receive a free parcel! There is also a special Christmas draw to enter to win a free children's party. Don't forget to take your letter with you and post it at Santa's post box!
It's that time of year again, with Christmas fast approaching and festivities are already underway as Santa arrived at Perks Entertainment Centre Youghal on Saturday 18th November. The Christmas catalogues have arrived and before you know it the Late Late Toy Show will be on. You can visit Santa for FREE in his Grotto and you will receive a FREE parcel. This year there will be a special Christmas draw for all the children to enter to win a FREE party for themselves and 7 guests!
Santa will be at Perks every Saturday and Sunday from 2-6pm right up until Saturday 23rd December giving him just enough time to fill his sleigh on Christmas Eve with all the presents for the girls and boys. Don't forget to take your letter with you and post it in his post box. Their in-house photographer is available if you want to get your photo taken with Santa. All of the photographs can be downloaded from the Perks website and even sent as an e-card to family and friends. Every weekend that Santa visits Perks will also be running a special offer on each day. Keep an eye on their Facebook page for more offers each weekend.
For more information you can visit our website on www.perksfunfair.com , follow on Facebook or telephone 024 92438. (Extra charge for photographs. No personal photographs with Santa are permitted.)
Sat 18th Nov – Sat 23rd Dec
THE SANTA EXPERIENCE
The Santa Experience welcomes all the good boys & girls back for another fun filled festive season in 2017. For generations, a visit to Santa's grotto has been part of the magic of Christmas and provides plenty of festive fun for all the family. Visit in Limerick, Cork & Dublin and take a magical journey through the Elves Post Office, Santa's Stable, the Sleigh Station, The North Pole and finally Santa's House! On the way you will meet Elves, Polar bears, Penguins and of course Santa Claus himself. If you are really lucky you might even get to ride in his sleigh! CORK: Top floor, Dunnes Stores, 105 Patrick St., Cork City. LIMERICK: The Jetland Shopping Centre Limerick. DUBLIN: 1st floor, Dunnes Stores, Ilac Centre, Dublin 11.
BOOK ONLINE to secure your preferred time and date at www.santaexperience.ie It means no waiting in long queues as you will be seen within 30 minutes of arrival.
Sun 19th Nov – 31st Dec
Dungarvan AGLOW 2017
Six weeks of festive entertainment and events in Dungarvan Co. Waterford with free family fun days on the Plaza every Saturday in December, from Dec 9th. Special cinema showings, Beauty & the Beast pantomime, arts & crafts, Christmas fair, concerts, carols, Christmas party, memorial tree, Santa's Elf Garden, Santa Cabin & Winter Wonderland and lots more. Follow on FB/Christmas in Dungarvan as the latest events are added…
From Sat 25th Nov
Christmas in Killarney
Rediscover the magic of Christmas in Killarney, with magic parades, markets, craft & food fair, Christmas parties, visit Santa, dine in Killarney, quiz night, real ice rink and lots more. www.christmasinkillarney.com
Sat 25th Nov – Sat 23rd Dec
Fota Beyond
Join Clementine Trufflespice and the rest of the elves at Fota Island resort Cork this Christmas. Take a Christmas journey to visit Santa in his grotto and wander through the fairy tale wonderland. www.fotadiscover.ie
Sat 25th Nov – Sat 23rd Dec
Magical Christmas Experience
Santa Claus, Mrs Claus, the reindeer and merry elves return to Kia Ora Mini Farm with thousands of twinkling lights and a unique animated musical light show. Take a ride on the Kia Ora Mini Farm Fire Engine, chat with Santa and then pick your own gift from unwrapped presents. 053 9421166 www.kiaoraminifarm.ie
Sat 25th Nov – Sat 23rd Dec
Santa Train Experience
Board the Amber Express Amber Springs Hotel, Gorey Wexford. Papa Elf will bring you to the magical dome for storytelling and to write your letter to Santa, before taking the Amber Express Train to Santa's Village. Meet Mrs Claus and the elves, and receiving a surprise from Santa. Trains start daily form Dec 1st with sensory train experience on Sat Dec 2nd. (No Santa train on Christmas Eve as Santa on his way! www.santatrainexperience.ie
Sat 25th Nov – Sun 24th Dec
Santa at Magical Blarney
Meet Santa and his elves at Blarney Woollen Mills Cork or at Dove Hill Tipperary to visit Santa in his grotto, check in at the North Pole Post Office, see where the elves live and meet Judge Judy Elf. Booking rules apply 021 4516144 www.magicalblarney.com
Sat 25th Nov – Sun 7th Jan
Wexford Winterland
Wexford on Ice, one of Ireland's biggest and best ice rinks, runs for seven weeks, as Wexford town is transformed for the festive period with enchanting family events. Visit Santa's North Pole Experience; watch the Wexford Winterland parade; and hop onboard the Christmas Express train! www.wexfordwinterland.com
Sun 26th Nov – Sat 23rd Dec
Cork North Pole Outpost Experience
Catch the Elf Express at Cuskinny Court, Cobh Cork and help Mrs Claus to make some tasty treats. Learn essential Elf skills in Elfversity, meet Santa in his study, and post your letter in the Cork Elf Post Office. Advance bookings 021 2428868 www.northpolecork.com
Sun 26th Nov – Sat 23rd Dec
Santa's Enchanted Castle
Santa and Mrs Claus, along with a band of merry little Elves, have transformed Enniscorthy Castle into a wondrous Enchanted Castle. Explore the Noisy Elves Workshop and Magical Time Machine; visit Santa's Post Box to post your letter! Sample some yummy treats from Mrs Claus Traditional Sweet Shop, meet crazy elves, and of course Santa Claus. Limited sensory tour dates available. 05393 76931 www.santasenchantedcastle.ie
Thurs 30th Nov+ Thurs 7th & Tues 19th Dec
Sensitive Santa Tour
Santa's Enchanted Castle in Enniscorthy has three designated dates available for a Sensitive Santa Tour in 2017. With a maximum of eight children per group, the tours are specially designed to support the sensory, physical and other development requirements of children with special needs, so they can enjoy a magical Santa. Limited sensory tour dates available. 05393 76931 www.santasenchantedcastle.ie
Fri 1st – Fri 22nd Dec
GLOW A Cork Christmas Celebration
Something for all the family in the heart of Cork City. Visit the free festive installation for children in Bishop Lucey Park, soar high above Cork on a giant Ferris wheel, hear Christmas choirs, and enjoy food markets and festive entertainment every weekend until Fri 22nd December. The Ferris wheel will open daily from 12noon to 9pm until Sun 7th Jan 2018 (closed Christmas Eve 4pm; Christmas Day and New Year's Eve). www.glowcork.ie
Fri 1st – Sat 23rd Dec
Santa's Winter Wonderland
Tour Santa's house at Crag Cave, Castleisland Co. Kerry and meet Mrs Claus. Meet Santa and receive a special present before visiting Rudolph and exploring the Crazy Cave play area. 066 7141244 www.cragcave.com
Fri 1st – Sat 23rd Dec
Santa's Village
Take a magical visit through Santa's Village at Leahy's Open Farm, Dungourney, Midleton Co. Cork. Start in the mystical forest where you can help Mrs Claus baking cookies. Step into the land of fairies where the Christmas Angel will grant a special wish, before learning some tricks at Elf school and meet the Head Elf. Have a chat with Santa Claus and receive a little present, before enjoying all the fun of the farm. Don't forget to visit the digger park and jump onboard the Barrel Train Ride! Bookings 086 8560461 www.leahysopenfarm.ie
From Sat 2nd Dec
Santa Grotto at HQ
Visit Santa and help raise money for Irish Guide Dogs this Christmas. Meet Santa and Mrs Paw and the special rein-dogs as you visit Santa's grotto, meet the dogs, pop into the shop and you can event buy your Christmas tree there too! Open from 12 noon to 4pm for Christmas weekends; and on Sat 2nd & 3rd Dec there will also be an Autism Friendly Grotto, without crowds, noise or flashing lights. Relax in the sensory lounge as you wait to meet the main in red. Model Farm Road Cork 021 4878200 www.guidedogs.ie
Sat 2nd Dec
Mallow Castle Fair
Enjoy a Christmas Family Food and Craft Fair from 12 noon to 4pm in the beautifully renovated grounds of Mallow Castle Cork. Lots of stalls and seasonal foods to sample, meet Santa, hop on the kiddies' train ride, get in the Christmas spirit with carol singing, and with beautifully hand-crafted gifts to inspire.
Sat 2nd – Fri 23rd Dec
WSVR Santa Express
Christmas is a very special time at the Waterford & Suir Valley Railway as Santa visits Kilmeadan Station from Saturday 2nd – Friday 23rd December 2017.
Board the train and the conductor will check your train tickets and give you red blankets to keep you nice and cosy on the journey. Christmas music will be playing. The train sets off on an exciting journey along the banks of the River Suir and in to the Magic Wood where you will meet Mrs Claus and some friends. Mrs Claus will give the children magic dust to sprinkle on the lawn on Christmas night. The train journey lasts about 25 minutes. You then return to the station, go through the Carriage shop to visit Santa as a family. Santa is in a cosy cottage outside the carriage. It snows as you enter Santa's Cottage. The children will have a nice chat with Santa and get a good quality present. Photos are optional at €5. To entertain you at the station you can meet the Mayfield Birds of Prey. Enjoy hot snacks in the Carriage shop and at Mrs Claus's Hot Chocolate stand. All tickets must be booked and paid for in advance - please telephone to check availability 051 384058. www.wsvrailway.ie
Sat 2nd – Sat 23rd Dec
Christmas at Wells House
Santa returns to Wells House & Gardens in Co Wexford, with Mrs Claus and Santa's mischievous group of elves in their workshop. Free admittance for accompanying adults to visit Santa. 053 9186737 www.wellshouse.ie
Sat 2nd Dec – Sun 24th Dec
Santa Claus at Griffins
Enjoy the magic of Santa and visit him in his cottage, set in a magical wonderland at Griffins Garden Centre, Dripsey Co. Cork. Get an 'Elfie' with an Elf in the photo booth, see Santa's animals, post your letter and see lots more besides on your journey. Bookings 021 7334286 or email christmas@griffinsgardencentre.ie
Sat 2nd – Sun 31st Dec
Magical Parades Killarney
The magical Christmas in Killarney Children's Parades take place every weekend in December at 6pm and on 31st Dec the NYE Parade will give you another chance to see Santa Claus at the last Magic Parade of the season from 6pm – 8pm. www.christmasinkillarney.com
From Sun 3rd Dec
Christmas Wonderland
Take a special trip to see Santa Claus at The Farm, Grenagh, Cork. Jolly Christmas elves will bring visitors on the wheelchair accessible train to meet Santa and Mrs Claus for a gift. Trips to the North Pole depart every 10 minutes. Advance bookings only 021 4629816 www.visitthefarm.ie
Sun 3rd Dec
Cork Santa Cycle 2017
A fun Christmas cycle in conjunction with CMRF leaving Goldberg's Victoria Road Cork City at 7.30pm. Prizes for best bike and Santa costume, No helmet, no lights = no cycle! www.cmrf.primo-events.com
Sun 3rd Dec
Santa's Greenway Cycle
Wrap up and enjoy a Christmas cycle on the Greenway with Santa in Dungarvan Co. Waterford. Meet at 2pm in Ballinroad (Scartore) Carpark and register your name to be in with a chance to win a brand new bike sponsored by Bob Troy & Co. Bicycles. Santa and his Elf will lead the way to Walton Park where everyone will be greeted by the Mad Hatter and friends, and enjoy some Christmas fun and goodies (while stocks last!) Follow on FB/Christmas in Dungarvan for the further information.
From Fri 8th Dec
The Magic of Santa
Let friendly elves guide you through a Christmas adventure. Visit Sugar Plum Village and Mrs Claus or peek into Santa's sorting office! Enjoy children's Christmas crafts and leave a wish on the Wishing Tree before you meet Santa himself and tell him what you would like for Christmas. 021 4815543 www.fotahouse.com
Sat 9th Dec
Abbeyside Christmas Fair
Enjoy lots of family entertainment and the arrival of Santa, with music, markets and a blessing of the crib in Abbeyside Dungarvan, Co. Waterford today from 2pm – 6pm. FB/Christmas in Dungarva
Sun 17th Dec
Ballygarvan Christmas Bazaar
The Ballygarvan Camogie Club annual bazaar will see Santa arriving to begin the afternoon's festive activities. Great prizes including turkeys, hams, sweets and treats. Support the club and enjoy a great afternoon!
Fri 22nd Dec
***Christmas Break***
The final day of Christmas term is Friday 22nd December which will be the final day of the school term. All schools will re-open on Monday 8th January 2018.
Sun 24th Dec
Breakfast with Santa
Santa and his magical sleigh will be at Lawlor's Hotel Dungarvan Co. Waterford to meet young children for breakfast from 8am-11am for a special Christmas Even Breakfast with Santa. Advance tickets available from hotel reception or call 058 41122. www.lawlorshotel.com