Pippa O'Connor launches Cheerios Childline Breakfast 2018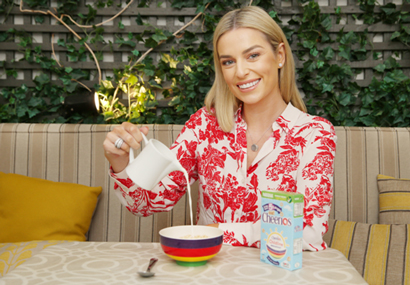 Today, Pippa O'Connor launched the Cheerios Childline Breakfast 2018 at Suesey Street, 26 Fitzwilliam Place, Dublin 2. This year, Cheerios Childline Breakfast will take place from Monday 15th to Sunday 21st of October. With ISPCC Childline celebrating its 30th birthday, the charity is particularly encouraging businesses and community groups to take part and raise vital funds for Ireland's only 24-hour listening service for children. Childline answered over 380,000 calls in 2017. Participants can register today at www.childlinebreakfast.ie or Text RISE to 50300 to donate €4*.
Cheerios and Childline are encouraging businesses, community groups, organisations, schools and crèches, to come together, join in on the fun and register to host a breakfast and raise much-needed funds for Childline. Organisers will receive a fundraising pack containing posters, collection boxes and sponsorship cards after registering. Organisations can also request portion packs of Less Than 5% Sugar Oat Cheerios® for their breakfast event.
To encourage corporate registrations, those who register by Friday the 21st of September will be in with a chance to win a special visit from Irish actor and ISPCC supporter, Rory Cowan who will drop by with Cheerios in hand and enjoy a Cheerios Childline Breakfast with the entire team.
Speaking at the launch, John Church, CEO of the ISPCC said "Cheerios Childline Breakfast is hugely important to Childline and we hope to see many businesses, workplaces and organisations registering for the first time, as well as welcoming back many who support us annually. We are very grateful to everyone who hosts a breakfast takes part – your generosity helps ensure that we are always there to listen to children, every day, and night."
Aisling Curran, Associate Marketing Manager at Nestlé Cereals Ireland said "We are delighted to be continuing this important partnership with ISPCC Childline, especially as this marks a milestone year for the charity."
Register today at or Text RISE to 50300 to donate €4. *ISPCC Childline will receive a minimum of €3.60. Service provider Like Charity. Helpline 076 6805278
#ChildlineBreakfast