Junior Achievement Ireland announces €10,000 prize fund to celebrate Ireland's most entrepreneurial schools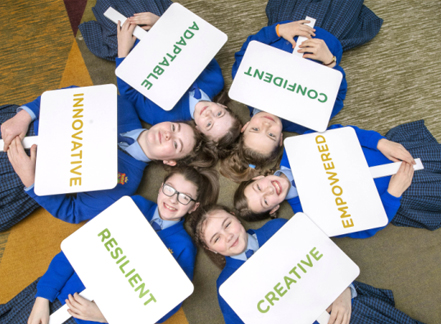 A new awards scheme to showcase excellence in entrepreneurship education has today been announced by Minister for Education and Skills, Joe McHugh TD. Details of the new scheme, which includes a prize fund of €10,000, were announced at a special event in The Marker Hotel Dublin, to celebrate 100 years of Junior Achievement (JA). The Entrepreneurial School Awards (TESA) will celebrate the hard work and achievements of primary and second level schools across the country which endeavour to develop entrepreneurial skills in students.
Speaking at this morning's event, Minister for Education and Skills, Joe McHugh TD said: "I am delighted to launch The Entrepreneurial School Awards with Junior Achievement Ireland today. The awards are a great opportunity to shine a light on the innovative work done by schools in preparing our young people to achieve success in their lives and in the workplace of the future. The shape of the workplace a decade from now and what jobs people will be doing is difficult to imagine. What we do know is that we need to prepare our young people with entrepreneurial skills. We need to equip young people with the confidence, adaptability and attitude required to prepare for such an unpredictable future."
Entrepreneurship education, as defined by the European Commission, covers all activities that seek to give individuals the skills, knowledge and attitudes required to achieve the goals they set for themselves to live a fulfilled life. Those skills include the ability to think positively, to identify opportunities, to have confidence in oneself as well as to set and achieve personal and professional goals. These skills are essential to preparing children for the future work place and to achieve success in their lives after they finish school.
Speaking on behalf of JAI, Chief Executive Helen Raftery said: "In our work with schools across Ireland, we see at first-hand the incredible work being done to prepare students to achieve success in their futures. We are delighted that TESA will give us the opportunity to formally recognise that excellent work, as well as identifying an overall winner (TESA School of the Year), which will represent Ireland at the European Entrepreneurial School Awards in Helsinki in November. We encourage all partner schools to share the details of their commitment to entrepreneurship education and join us at the summit in October to engage with other educators in this field. Of course, there is also a chance to be designated best-in-class."
Awards Process and the Announcement of the National Winner
The call for submissions will issue to JAI partner schools in mid-February. Schools will be notified in September if they have achieved the TESA accreditation in Year 1 and JAI is planning to accommodate delegates from over 100 schools to recognise achievements and engage in an educators' summit in October.
All TESA-accredited schools will be eligible for the five national category prizes and one will be selected as 'TESA School of the Year'. The school designated as Ireland's most entrepreneurial school will also be invited to represent Ireland at the Entrepreneurial Schools Conference in Helsinki in November 2019.
The first annual TESA Summit
A highlight of the scheme will be the first annual TESA Summit. As well as announcing the five national category winners, the TESA Summit will allow schools to exchange best practice and to participate in specially-commissioned masterclasses with international experts in entrepreneurship education. The summit will encourage innovation and the continuous development of those working to provide opportunities for entrepreneurship education in our schools.
Clive Byrne, Director of National Association of Principals and Deputy Principals said: "Entrepreneurship education is an essential element of holistic education and its importance will only grow in the future. We are delighted that JAI is recognising the work of teachers, principals and deputy principals, who often undertake this work on a voluntary basis. As well as the generous awards and bursaries, the annual TESA Summit offers a unique opportunity for entrepreneurship educators to come together, to share best practice and to build a support network of like-minded educators and schools."
Junior Achievement was founded in the USA in 1919, and JAI was established in Ireland in 1996. Since then it has been working with companies and schools to develop active partnerships between education and industry. In the past year, more than 60,000 students attending over 500 schools participated in JA activities facilitated by the support of over 160 companies and 3,000 volunteers.
For full details of the application process for TESA please visit: www.jai.ie