CYCLE RIGHT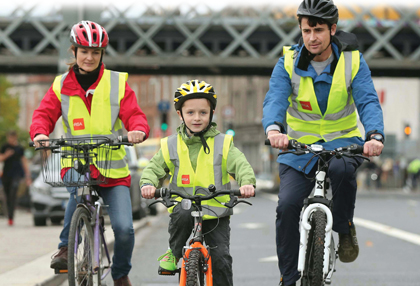 Cycling is a fun and healthy way for your child to get around and learning to ride a bike is fun and sociable life-skill and yet, like many activities, can carry an element of risk. Parents play an important role by giving their children proper guidance and instruction at an early age to ensure basic safety rules are learnt while young. By setting a good example and with the right clothing and equipment, you can help keep your child safe.
Getting your child's bike ready
Make sure your child's bike is the right size and well maintained:
Check lights are working - a front white light, back red light and back red reflector
Remind your child that if they have a dynamo on their bike the lights will go out when they stop
Show your child how to check brakes, gears, chain and also tyres
Mark the bicycle frame with your postcode
Remind your child to always use a cycle lock and a cycle rack to park their bike if possible
Setting a good example
When you're cycling with your child you should:
Wear a cycle helmet yourself and preferably bright or fluorescent clothing
Obey traffic signs, be considerate of other road users and don't use a mobile phone or listen to music
Encourage your child to notice and discuss what they see around them on the road
Ensure they know they need to concentrate and watch out for other road users all the time
Encourage them to take their own decisions and not blindly follow what others are doing
Practice judging speed and distance with them
Help them work out the safest routes for the journeys they make
Practice the following basic rules of the road to keep them safe:
Keep left and look behind before they turn, overtake or stop
Use arm signals before they turn
Obey traffic lights and road signs
Do not ride on the pavement unless there is a sign saying they can
Do not cycle next to another person on a narrow road
Watch out for car doors opening suddenly when passing parked cars
Cycle Right Cycle Training
Cork City Council & Cork County Council support Cycle Training in schools. This training is available to all schools in Cork city and county and is provided by CYCLE RIGHT, the National Standard for Cycle Training. It provides practical cycle safety and skills training to promote competent and confident cyclists. Training with the CYCLE RIGHT programme is a great starting point for you and your child to cycle safely into the future.