Planning a birthday party this Autumn?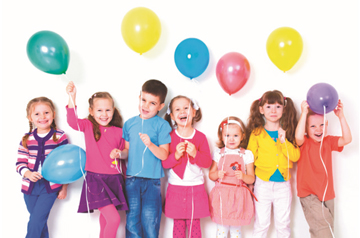 Often the highlight of a child's the birthday party will etch an enormous mark on the family calendar. Filled with wonderment and wishes, this magical moment is dreamt about long before it arrives – for a child that is! For a parent, it may be a different story all together. For the grown-ups, the magic may be replaced with an overactive mind buzzing with checklists: there may be worry about the additional responsibility, plus of course there are the presents top buy, the entertainers to sort… but it's worth the effort as all they want is for their child to have a happy memorable day. Here are some ideas to inspire this year- and please mention 'Primary Times" when making an enquiry or booking…
The Bricks 4 Kidz Creativity Centre at OMNI Park Shopping Centre in Santry offer LEGO® themed Birthday Parties for Girls & Boys using LEGO® to build models and play games for children aged 5 – 12 yrs.
Themes such as Super Heroes and Jurassic Park guide the party for the Junior Builders (5 & 6 years) while Senior Builders (6 + years) get their creations moving with motors and gears completing LEGO® technic models.
Builders move from the Imagination Zone to race their models down the Test Ramp before settling down to build their LEGO® models. The Creativity Centre, which has already hosted parties with in excess of 50 children attending, also has a party room which allowing you to order in food tailored to suit all tastes.
The Creativity Centre which is open every day also operates a supervised drop & play facility to allow parents time out to shop in peace, whilst builders bring their creations to life.
Located in state of the art 35,000sq.ft facilities in both Santry and Sandyford. This Irish owned Jump Zone has fast become one of the country's most popular sports and entertainment attracting over 250,000 visitors a year. Jump Zone specialise in birthday parties and group outings. Parties range from 1 to 2 hours and include jumping time and 30 minutes in your own party room. Pizzas and drinks are included in most packages. Each party is allocated its own dedicated party host who will endeavour to make the party special. Parents are invited to sit and relax in the café and let us take care of the party goers. When you book, party hosts will be allocated who will run mini Dodgeball competitions, interactive games, foam pit access, trampoline basketball and for the gymnasts a Tumble Track has been installed in the Sandyford facility. A new Battle Beam has also been added to each facility in recent months. On arrival, the dedicated staff will lead the group down to the induction area where a safety video is shown and the rules are given. Large groups are then divided into smaller groups and led out to the courts where the fun really begins! Extreme fun is so important but so is the safety of the guests. At Jump Zone, they do all they can to ensure that your group will have maximum fun with maximum safety! With court supervisors on the courts at all times, heavy duty spring loaded frames covered by 2+ inch think safety pads, Jump Zone combines fun and safety in all areas to create a fun experience like no other. Groups of up to 200 can be accommodated at one time. For more information see www.jumpzone.ie or phone Sandyford 01 2939356 - Santry 01 8623366
Leisureplex Birthday Packages
Leisureplex offers an extensive range of parties for birthdays of all ages. Whether your little one loves knocking down strikes in Bowling, getting lost in the galactic Quasar universe, or letting loose in the Zoo Adventureland, they have all you could need for a magical birthday bash! Get in touch with your local Leisureplex venue and they will l help you find a package that will ensure your party will be one to remember!
All Leisureplex parties include: Choice of one, two or three activities, kids' meal with drink, free refills, ice cream cake and a special present for the birthday child. We also include free party invitations with your booking, and one of their enthusiastic party hosts will also be assigned to look after you on the day. At Leisureplex, they cover all the bases!
Whats's more Leisureplex is offering you 10% off your kids' party! All you have to do is book a party for 8 or more kids, and let the staff know when you book that you have a 10% off voucher from Primary Times. Once you bring your voucher along on the day, your discount will be taken off your bill. It's as simple as that!
For more information on our birthday packages, special offers and to book a party visit us on www.leisureplex.ie.
*Activities available vary depending on centres. Please contact your nearest Leisureplex for more details and information on their party packages."
Astropark Birthday Parties
If your child loves sport and activities then they'll love an Astropark Birthday Party. They have 4 exciting options: Bubble Football, Nerf Wars, Soccer or AstroBounce (inflatable obstacle course). All parties last 2 hours with 1-hour supervised activity, followed by hot food (sausage/nuggets with chips & cordial drink) in one of their party rooms, and an extra 30 minutes football after the food. Invitations can also be provided as well as a medal for the birthday boy/girl.
Call Coolock on 018060088 or Tallaght on 014599822 for more information.
BOOM BOUNCE
Boasting Ireland's first interactive inflatables, Boom Bounce Ireland offer a wide selection of inflatables that can also be hired with our interactive play systems. Their IPS systems provide a choice of three exciting games, together with music and lights, where innovations meets fun and excitement for all.
Here is what some of their customers had to say:
"We had Boom Bounce Ireland supply us with their large castle with the games. It was a HUGE hit with all the kids at the party. The castle was clean and in perfect condition. The games were a big hit also. Thanks guys". Ailish Goonan
"We hired one of these castles with an interactive play system for my daughters communion and the kids absolutely loved it! So much so that we hired it the next week for her birthday party. Great service from Michelle and delivered/collected on time. Highly recommended!"
Joyce, Blackrock
Boom Bounce Ireland www.boombounceireland.ie | Contact Michelle on 087-1781134 info@boombounceireland.ie
Go Kids Go!
Big birthday fun for the little ones! Birthday parties at Go Kids Go are a fun filled 2 hours. Consisting of 1.5 hours play on Adventure Play Equipment including Disco Room and Football Pitch and 30 mins in one of the private themed party rooms (choose from the Princess Room, Superhero Room, Minion Party Room or Disco Party Room Room). Food for the children is supplied - chicken nuggets, sausages, chips and juice. All special dietary requirements catered for. Unlimited juice available while playing and in the party room. Parents provide the cake and children receive a Birthday Party Goody Bag going home. A souvenir photo is given to birthday child's parents. Invitations are included in the package. Groups catered for and there is free car parking. New to Go Kids Go! Laser Parties from 6.15pm for children age 8+. Coolmine Ind Estate Blanchardstown Visit www.gokidsgo.ie or phone 01 6405500 to book.
Pembroke Fencing Club offers a unique party experience for your child's birthday. Let their imagination run wild to create a great adventure through this Olympic sport. With team games and fun props, your child's party is sure to be one to remember.
Tel 0862160646 info @pembrokefencing.ie www.pembrokefencing.ie
Have a scientific party run by Junior Einsteins
Junior Einsteins Science Club incorporates the basics of science into a fun session of activities and practical experiments.
There are hovercrafts , dinosaur digs, bug hunts & Gooey Slime (to take home!) along with Magic Tricks, Giant Bubbles & Fizzing Potions to ensure your little one's big day is a roaring success!
Exciting, Interactive, Hands-on & even Educational!
Mess, Stress & Hassles Free!
Unforgettable Party for Children Ages 5-12!
See www.junioreinsteinsscienceclub.com | 085 8641959 | junioreinsteinsscienceclub@gmail.com
CHILDRENS BAKING PARTIES
A Baking Party is a fun and creative way to celebrate your child's birthday in your own home. At a Pizza & Cupcake Party or a Pizza & Cookie Party guests prepare and make their own pizza from scratch, then make and decorate either cupcakes or cookies. The party includes all necessary ingredients and utensils and aprons for party guests to wear. Baking certificates and cake boxes in which guests carry home their delicious creations are also included. This party takes approximately 2 1/2 hours at a cost of €230 for up to 15 children, plus €15 per child for each additional child. A Cupcake Party or a Cookie Party takes approximately 2 hours and costs €180 for up to 15 children, plus €10 for each additional child. Pizza Parties and Pizza, Cookie & Cupcake Parties are also available.
To Book or for further information contact Mary at 086 3669259, or email at mary@childrensbakingparties.com or visit www.childrensbakingparties.com
Sing Factory
Looking for a unique birthday party your gang will never forget. What about a pop star party at Sing Factory - the home of the Superstar Recording Experience. Your birthday guests will record their favourite pop song, get expert direction from our recording engineer, see the track being recorded and edited and hear playback in our professional studio. Afterwards, you can get video copies to view, save or share with family and friends. This is a once in a lifetime birthday experience. That's why, The Irish Times listed them as one of the best places to party in Ireland. Call 01 652 0884, email sing@singfactory.ie or see singfactory.ie
Art Zone
Looking for a fun,creative and professionally-run alternative to your child's birthday, special occasion, rainy day, corporate event or festival? Art Zone have a dedicated Art Party avenue at their studios Rathfarnam or they can just come to your home.
Call 01 4990614 or visit www.artzone.ie to plan your party.
Mad Science Birthday Parties at Junior Einsteins!
There are hovercrafts, dinosaur digs, bug hunts and gooey slime (to take home!) along with magic tricks, giant bubbles and fizzing potions to ensure your little one's big day is a roaring success!
Exciting, Interactive, Hands-on and even Educational! Mess, Stress and Hassles free! Unforgettable Party for Children Ages 5-12
See www.junioreinsteinsscienceclub.com 085 8641959