STEAM : Inspire the next generation in your school!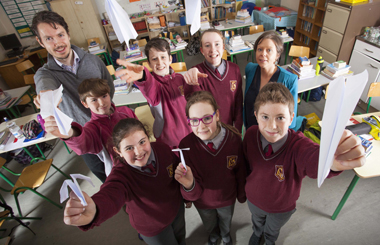 STEAM stands for Science, Technology, Engineering, Arts and Maths. STEAM Education's vision is to inspire children to love STEAM subjects and to become the future generation of Scientists, Technologists, Engineers, Artists and Mathematicians. They provide innovative, fun, hands-on educational programmes in these subject areas, which are delivered in primary schools (to 4th/5th/6th class) using a co-teaching model i.e. real life STEAM experts from industry and academia work with the primary school teacher, and specially designed tools and content to deliver the programme and inspire the kids.
STEAM Education provides a framework for industry to sponsor their local schools to avail of these programmes, and provide STEAM with the experts to deliver it in the classroom. STEAM Education is currently providing 3 exciting, engaging hands-on 10 week programmes to enhance and compliment the primary school curriculum: Science-in-a-Box, Engineering-in-a-Box and Maths-in-a-Box! Tech and arts are coming soon.
Each programme focuses on demonstrating fundamental principles of the main subject, while linking to the other 4, integrating subjects through interactive activity based learning. The class is provided with tools/activities, lesson plans and supporting material which is specifically tailored to primary school children.
STEAM Education Ltd is a not for profit company based in University College Cork, Gateway Innovation Centre. They are currently running STEAM programmes in 60 schools around Munster and Leinster. And coming soon to an area near you! To bring STEAM Education to your school, please call Linda on 086 8566999 and visit www.steam-ed.ie