DISCOVER YOUR UNIVERSE!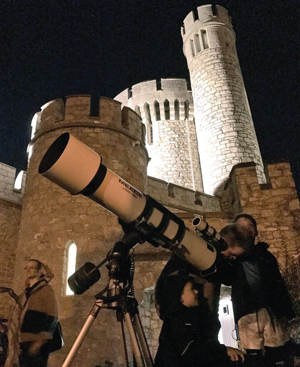 Space Week is YOUR week to focus on the wonders and realities of the universe around us.
Take part in Space Week and use the powers of creativity, critical thinking science, technology, engineering and maths to help shape your understanding of life on Earth and our place in Space. Space Week events will take place nationwide or try a space taster at home! Visit www.spaceweek.ie and discover some creative ideas for family learning and fun!
In association with Cork Institute of Technology (CIT), Science Foundation Ireland (SFI), and the European Space Education Office (ESERO) Ireland, the Blackrock Castle Observatory (BCO) team has organized events all throughout the week in different locations across Ireland.
The events are designed to explore our incredible universe and raise public awareness of the benefits, challenges, and inspiration of space exploration, and other endeavours. With a host of world leading space experts and enthusiasts appearing at events for young and old there really is something for everybody! BCO is celebrating 10 years as an award-winning science and discovery centre, engaging close to one million people on explorations of contemporary science and technology through the theme of astronomy and space.
Be sure to check www.spaceweek.ie to search for events to attend in your area or find out how your organisation can host its own space event and register on the site.
PRIMARY SCHOOL TEACHERS
Now's the chance to get your students thinking about space and the universe around us! The new Space Week website is full of resources. You can find classroom tool kits on the website in order to help you plan some out-of this- world activities with your students! Be sure to register your space event on the Space Week website: www.spaceweek.ie and BCO will also send you some merchandise for at your school!
DIARY OF A MARTIAN BEEKEEPER
It's 2036. Niamh and her crew mates are stationed on Mars for a 2 year mission, growing food and farming bees, preparing for the new colony arrival. This theatre production for adults in CIT Cork, captures the importance of friendship, love and the power of the collective, because we leave Earth but we are always human.
DIVE INTO SPACE
Leisureworld Bishopstown Cork
Have you ever dreamed of going into space or working in the space industry? Have you ever wondered how it would feel to be weightless, well now is your chance! Diving into Space is a unique event combining space, weightlessness and diving into a truly memorable experience. Check www.spaceweek.ie for more information on tickets and details.
SPACE CAREERS EVENTS
Follow star speakers Dava Newman and Gui Trotti who are flying in specially for Space Week! Gui creates designs for extreme environments such as Antarctica and the ISS. He also works on concept vehicles for exploring the moon. Dava's focussed on human space exploration, especially to Mars and is designing better space suits to get us there! Be sure to check the Space Week website to find an event near you.
DRAMA & DREAMS WORKSHOP
Using drama and improvisation, Dr Niamh Shaw's workshop for children explores the scale of the Universe and in partnership with 'Stargazer Lottie' doll, explores their future selves. This inspired by space workshop also includes Stardome shows and is suitable for 8 - 11 year olds.
SPOOKY SPACE CAMP
Suited to kids aged 5 – 7 years
Junior Space Camp with a Halloween twist. Make Monster Moons, Monster Volcano's and Lava Lamps as well as the usual Magnet Painting and Mentos Rocket! Junior Space Campers pay €10 for their space adventure and can bring their parents for free! One parent per child or group of children is required. Booking is essential. Call 021-4326120 or info@bco.ie to book your space!
BCO KIDS WORKSHOPS
Has your child ever wondered what it must be like to float like an Astronaut and fly like a superhero in weightlessness? Find out all about Zero G and with space talks for children aged 9 +
VISITING WITH SCHOOL GROUPS
BCO runs special programmes at discounted rates for school groups from pre-school to primary school and beyond. If you're a teacher interested in organising an educational trip to BCO, please see www.bco.ie/education/ for more information.