Space Week - Theatre production; workshops and talks - Niamh Shaw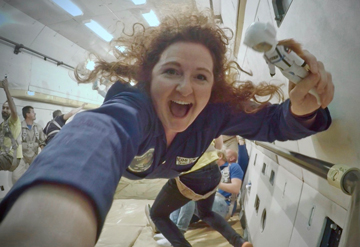 Blackrock Castle's Artist in Residence Dr Niamh Shaw will be running workshops and talks at Blackrock Castle during Space Week 2017:
'Drama and Dreams Inspired by Space' workshop for 8 year old girls. Using drama and improvisation, the participants learn about the scale of the Universe and in partnership with 'Stargazer Lottie' doll, explore their future selves.
Talk: What weightlessness feels like
Niamh wants to go to Space and has been very busy making that happen for the past 4 years. Having recently returned from Star City in Russia (where astronauts train for space) to participate in a Zero G flight to experience the weightlessness of space, Niamh describes what zero g felt like as well as outlining her recent simulated Mars mission in the Utah desert at the Mars Desert Research Station. In this event which has toured nationally, Niamh uses personal photos and videos of her own space adventure, outlines ESA's moon village and NASA's mission to Mars to capture the massive human effort behind space exploration. Suitable for families has toured Ireland and well worth checking out.
Blackrock Castle's Artist in Residence Dr Niamh Shaw is premiering her new theatre show 'Diary of a Martian Beekeeper' at the Rory Gallagher Theatre in CIT Corkfrom October 4th to the 8th. Niamh is a leader in Ireland in using performance and art to attract new audiences to STEM (science, technology, engineering and maths), literally putting the A in STEAM. This is her third show which merges science with theatre, chronicling her life life ambition to get to space.
Its 2036 and Niamh is stationed on Mars, fulfilling her ultimate dream of getting to space. As part of Crew 173, she is working on a 2 year mission with her astrobiologist crew mates Michaela and Rick, growing food and farming bees, in preparation for the imminent arrival of the new colony. But news from Earth tests her resolve to the limit putting into question the cost of her personal sacrifice for the better good of mankind. This deeply moving human tale captures the importance of friendship, love and the power of the collective, even in space-because we may one day leave the cradle of Earth, but we will always be human.
Inspired by Elon Musks grand design for a future interplanetary civilisation, testimonies of ESA employees, and Niamh's personal space journey, this show has been created in collaboration with CIT Blackrock Castle Observatory, ESERO Ireland and European Space Agency's Astronaut Centre. Further details at www.spaceweek.ie and www.niamhshaw.ie.