Arts & Creativity in the Classroom, Minister Bruton & Minister Madigan Launch Creative Schools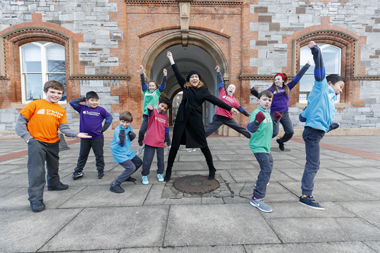 Minister Bruton and Minister Madigan today launched Scoileanna Ildánacha/Creative Schools, a central initiative of the Government's Creative Ireland Programme, which puts the arts and creativity at the heart of children and young people's lives. They encouraged schools right across the State to apply to be part of the initiative.
The arts are a powerful means through which children and young people can explore communication and collaboration, stimulate their imaginations to be inventive and harness their curiosity. These are vital skills for all young people to learn.
Up to 150 schools across the country, will participate in the pilot and work with artists, creative practitioners and educators to develop their own unique programme of arts and creative work, connecting them to the full range of local and regional cultural resources and opportunities.
In addition, all schools will also receive a further range of supports including a once-off grant of €2,000 and training for teachers in the school.
Speaking at the launch at Central Model Senior School on Marlborough St, Dublin, the Minister for Culture, Heritage & the Gaeltacht, Josepha Madigan and the Minister for Education and Skills, Richard Bruton, said the initiative represented a wonderful opportunity for children in the participating schools.
Speaking at the launch, Minister Madigan said: "This Creative Schools pilot is a vital element of the Government's Creative Ireland programme. It means participating schools will be provided with funding and expertise to enable them to explore the potential impact of the arts and creativity on school life."
"Every place is different, and every school is different, and I'm really looking forward to seeing how each of the 150 schools will design their own, unique programme," she added.
Minister Bruton said: "Creativity and flexibility are vital skills for any young person to have in a modern society. The arts challenge a person to think differently and be inventive in finding solutions to problems. That is why participation in the arts is ideal for equipping young people with the ability to be inventive, critical and adaptable.
He added: "Developing the creativity of children and young people enables them to achieve their full potential and grow as well rounded individuals."
Minister Bruton stressed that all Department of Education and Skills primary and post-primary schools and Youthreach centres all across the country were eligible to apply,
Orlaith McBride, Director of the Arts Council, said: "The Arts Council understands that for creativity to thrive we need not only to recognise the importance of the arts but also to build infrastructures, programmes and ways of working that place the arts at the core of school life."
And she added: "I would encourage any parent to bring this initiative to the attention of their children's school – and any teachers or principals to register today. We'd like to make sure that a range of schools participate in the pilot phase – in different parts of the country, rural and urban, DEIS schools, special schools, and Youthreach centres."
She stressed that said the pilot would include schools that are at different stages in their own journey with the arts and creativity.
"The most important thing is for schools to confirm their interest in developing the arts and creativity at their school, to show that the school leadership is on board, and that children and young people will be facilitated to have a central role in planning for creativity in their school. Wherever your school is at, this is a really exciting opportunity," Ms McBride said.
Interested schools should:
Applications open on the 20th of February and participating schools will be announced in May 2018. Work will begin in schools in September 2018.
For more information see www.artscouncil.ie/creative-schools/