Now every child can learn basic water safety skills in the classroom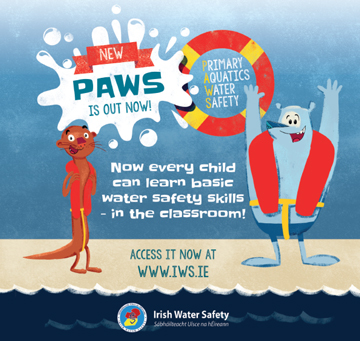 Irish Water Safety has created a fantastic educational resource for primary schools called PAWS (Primary Aquatics Water Safety). PAWS outlines life-saving guidelines for children of every age and is available digitally to every school in the country.
PAWS teaches children how to be safe around water in homes, farms, pools, beaches and on our waterways, and is written and designed for different age groups.
With beautiful illustrations, a wealth of tips and advice, and all sorts of interactive games and puzzles to reinforce lessons learned, PAWS incorporates all aspects of the physical education aquatics strand of the primary school curriculum.
The PAWS programme has been developed in partnership with The Educational Company of Ireland. Their platform is already used daily by many teachers all over the country.
English and Irish digital lesson books are available for each class band with interactive puzzles to match. The lessons can be delivered in just a few hours of class time and on completion each class can receive an Irish Water Safety Primary Aquatics Water Safety Certificate.
As the weather starts to brighten and with summer holidays on the horizon, Irish Water Safety's Primary Aquatics Water Safety programme couldn't be more timely.
In Ireland, thirty children aged fourteen and under drowned in ten years. That's the equivalent of an entire classroom. By encouraging school children to be more conscious about water safety we can change that statistic for good.
Teachers can access Irish Water Safety's PAWS programme now by visiting www.iws.ie.