Discovery Park Launches Ireland's First Digital Scavenger Hunt at Outdoor Attraction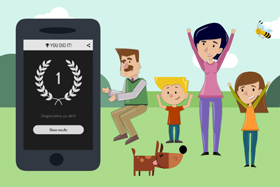 As the schools have unleashed the little ones for the holidays, Castlecomer Discovery Park in Kilkenny Park has introduced an entirely new and unique way for parents and children to enhance their experience at the park.
Castlecomer, Kilkenny: While the kids are looking forward to eight long weeks of summer, parents across Ireland are struggling to find activities to keep their children busy. To tackle this issue, Castlecomer Discovery Park, an outdoor activity park for families and team events, has introduced a digital app-based scavenger hunt that enables families to explore the park and its rich coal mining history and natural environment in a new, immersive experience, using cutting edge technology. Quirky clues in form of riddles, puzzles, and quizzes lead families on a tour through the park alongside its magical forest creatures such as elves, fairies, and trolls.
"Castlecomer Discovery Park is Ireland's first outdoor attraction that offers a digital scavenger hunt. We are constantly reviewing our offer and look to provide opportunities to our visitors to explore new aspects of the park. With the park now opening full-time for the rest of the summer, we are very excited to introduce this original new product as a fun addition to a day at the park." says Kathy Purcell, Strategic Business Development Manager at Castlecomer Discovery Park.
The app features two game modes for different age groups, ranging from 5 - 8 years old and 8 - 12 years old. One game designed for younger children asks users to help the park's forest elf get back his treasure stolen by a mysterious man. The second game, aimed at the older age group, tells the story of Castlecomer's coal mining history and lets children discover hidden spots and treasures around the park. For each solved clue or photo and video challenge, users collect gold coins along the way and, in the end, can rank against their friends, family, or other park visitors.
The park offers free access to the app with any bought activity. So, get your children out and about and discover Ireland's first digital scavenger hunt at an outdoor attraction, while swinging on high ropes or ziplining across a lake at Castlecomer Discovery Park.
About Castlecomer Discovery Park: Castlecomer Discovery Park is an outdoor adventure park offering a wide range of recreational and educational activities for families and team events. The park is situated in an 80-acre woodland, located outside the town of Castlecomer. The park is suitable for all ages and is home to Ireland's longest over-water zipline at 300m long, and, amongst others, an Octagon High Ropes Course, Tree Top Adventure Walk, Boating, Archery, and Orienteering & Walking trails. Castlecomer Discovery Park is a social-community enterprise, a registered charity and operates on a not for profit basis. The park and activities will be open every day to visitors from June 30th to August 31st 2018.