Ireland's World Championships Relay Heroes launch Aldi Community Games' National Festival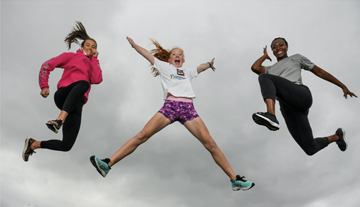 Aldi Community Games to welcome over 4,000 children from across Ireland to August National Festival
Three of Ireland's women's U-20 100m relay team, who recently stormed to a silver medal at the World U-20 Championships, today burst out of the starting blocks at the University of Limerick Sports Campus to launch the Aldi Community Games National Festival, which takes place at UL this weekend.
Sprint heroes Gina Akpe-Moses, Ciara Neville and Patience Jumbo-Gula are all Aldi Community Games former participants.
More than 4,000 children will be welcomed to the University of Limerick Sports Campus for the second Aldi Community Games National Festival of 2018, taking place from Saturday, 18th August to Sunday, 19th August.
The Aldi Community Games August National Festival is the final event in a successful second year of Aldi's three-year sponsorship of Community Games, which aims to introduce young people to a love of sport and culture and encourage healthy, active lifestyles.
This year Aldi Community Games saw more than 160,000 children across 575 communities take part in hundreds of scheduled regional events. The August National Festival will bring together county and provincial champions from across Ireland in friendly competition across a wide range of sporting and cultural activities, individual and team events.
Assisting the children will be over 200 volunteers, who will oversee activities from Gaelic Football, soccer and rugby, to track athletics, discus, javelin, shot put and many more.
Over the past 50 years, more than 5 million Irish children have participated in Aldi Community Games, including many of Ireland's celebrities, sporting heroes and world-famous actors. Some of the names represented in the Community Games alumni include Paul O'Connell, Sonia O'Sullivan, Saoirse Ronan, Olive Loughnane, Bressie, Colin Farrell and Niall Quinn.
John Byrne, CEO of Aldi Community Games commented: "We held our first Festival in the University of Limerick in May of this year and it was a resounding success. More than 3,400 children took part in over 30 different events from swimming to handwriting. We are expecting even more children in August and we are grateful to the thousands of volunteers, our title sponsor Aldi, all our other sponsors and funders and UL for supporting us all the way."
"Aldi Community Games continues to provide the children of Ireland with a healthy alternative to the pressures of a sedentary tech-led lifestyle. We were delighted at the recent success of the Irish women's 4 x 100m relay team who stormed to a silver medal at the U20s IAAF World Championships, setting a new national relay record. All four are Aldi Community Games former participants: Patience Jumbo-Gula, Ciara Neville, Molly Scott and Gina Akpe-Moses."
Finbar McCarthy, Group Buying Director, Aldi Ireland, said: "There has been a very strong tradition of young people from Irish towns and villages taking part in Community Games. Aldi is proud to be supporting the Community Games and we are excited to support the organisers to ensure more children and communities have the opportunity and the encouragement to participate."
"At Aldi our competitive nature ensures that we will never be beaten on price. We have also made an equally strong commitment to promoting active, healthy lifestyles for Ireland's next generation, and teaming up with Community Games is built on that vision. The first year of our partnership with Community Games was a huge success. We had over 3,400 children take part in the May finals to kick off year two of the partnership and I have no doubt the finals this month will also exceed our expectations. I would like to wish all the children and volunteers participating in the August National Festivals the very best of luck."