PRE-SCHOOLERS LEARN ABOUT SAVING ENERGY WITH SEAI AND EARLY CHILDHOOD IRELAND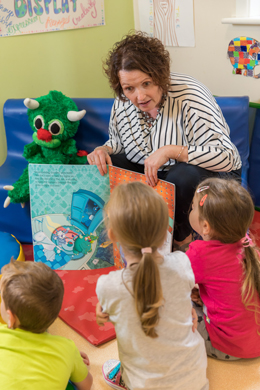 Pre-school children around Ireland are learning about saving energy through a partnership between Early Childhood Ireland and the Sustainable Energy Authority of Ireland (SEAI).
SEAI is providing free learning resources to pre-schools in the form of 'Guzzler's Big Book on Energy'. The book is a fun and engaging resource for the classroom. Through the book children explore ways to save energy and understand more about the world around them. They also learn their role in helping to improve the environment and tackle climate change.
Commenting on the importance of educating young children on their energy use, Emer Barry, Education Programme Executive at SEAI said: "As children learn about energy, they develop behaviours that benefit them and wider society. The values we build as children stay with us for the rest of our lives. So, the earlier we involve children in these important issues, the more likely they are to be empowered citizens in the future."
Teresa Heeney, CEO Early Childhood Ireland, commented: "The early years is a time when children's natural curiosity, creativity, and sense of self emerges. This journey of learning and discovery is supported by the dedicated, everyday practice of our members. The Guzzler campaign will help to stimulate children's interest in and conversations about sustainability, and support providers in bringing these activities into the early years room. We are delighted to partner with the SEAI to bring these resources to our members."
You can order your free 'Guzzler's Big Book on Energy' by emailing schools@seai.ie. If you are a member of Early Childhood Ireland, log onto shop.earlychildhoodireland.ie or call (01) 4057104. Further resources are available from www.seai.ie/schools.