Summer Camps in Munster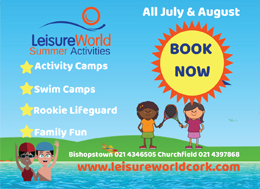 This summer LEISUREWORLD have a host of fun activities for kids of all ages. During July and August, they will be running all day activity camps from 9am – 5pm, Monday to Friday in both Cork locations of Bishopstown and Churchfield. The activity camps are suitable for 5-10-year olds and children are grouped by age for each activity. If you're looking to get your child better at swimming, then why not book them in for morning swim camps. Camps are suitable for all levels and will be delivered in a fun and structured environment by qualified instructors. Children aged 8 -12 years can take part in the Rookie Lifeguard course, that will teach them the basics of water safety and CPR while building their own confidence both in and out of the water. And lastly, there will be family fun all summer long with giant water slide and play zone in Churchfield and inflatables and water toys in Bishopstown. For more information on all activities go to www.leisureworldcork.com
STARCAMP is Ireland's award winning No 1 Summer Camp Experience! It promises to offer the absolute
best, most exciting and varied summer camp experience that you will not want your child to miss. Aimed at all boys and girls aged 4-12, STARCAMP offers a mind-blowing array of activities including a superhero masterclass taught by real superheroes, new camp games, arts & crafts, news & weather reporting, Starcamp Band for older age groups, singing, dancing and drama. The week is scattered with new and exciting surprises and a Friday finale showcase for all. STARCAMPERS receive a free t-shirt, star award, Starcard, arts & crafts and surprises. Everyone booked into Starcamp 2018 will be in with a chance to win a SUMMER OF DREAMS! Prize includes a holiday, vouchers and a free Starcamp place. Details on www.Starcamp.ie and follow on Facebook. Make sure to secure your child's place as camps book up early and are available nationwide. Book your place at www.starcamp.ie or call 021-4377900.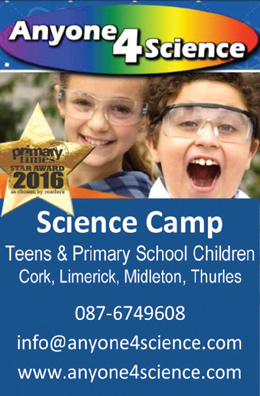 Have you a science girl or guy, always asking what and why? Anyone 4 Science summer camps aim to help children answer some of these questions. Children from 5 – 15 years join in fun, hands-on experiments and activities covering Science, Technology, Engineering and Maths through age appropriate activities.
This year fun experiments are planned to investigate and answer questions about bubbles, mixtures, geology, marine biology, pneumatics and hydraulics. Take part in creating working models and maybe even an explosion or two… Teenagers will learn to solder, make electrical circuits and working models, investigate chemical dyes, learn about marine biology and have fun problem solving and designing gadgets. Anyone 4 Science also brings hands-on science to schools, corporate events and birthday parties. To book or for more information visit www.anyone4science.com, email info@anyone4sceince.com or call 0404-40563 087 6749608
Tipperary County Museum in association with the School of Irish Archaeology presents a new and fascinating alternative to sports-themed camps and other school-break activities for children aged between 8 and 13 years old. If your child is a curious explorer with a thirst for knowledge about their past, why not introduce them to the mysteries and adventures of our past in a fun, practical and hands-on way. Camps offer interactive, hands on experience of Archaeology, Art and fun activities based around Tipperary's rich heritage. Based at Tipperary County Museum, activities also include a trip to Ormond Castle in Carrick on Suir and an architectural trail of Clonmel. Camps run 10am-3pm daily from Tues 17 – Fri 20th July inclusive, for 8-13 year olds and cost is €70 per child with family discounts available. Places are limited so booking is essential, and a €25 non-refundable deposit is required. For details or to book, email julia.walsh@tipperarycoco.ie or call 07 61 06 5254. Children should bring a packed lunch every day and suitable clothing and footwear as some activities will take place outdoors. www.tipperarycoco.ie/museum FB/ TipperaryCountyMuseum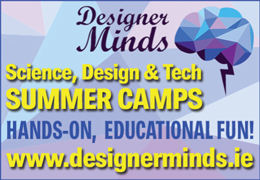 Designer Minds Science, Design & Technology Camps are Ireland's number 1 STEAM camp with 56 locations nationwide. Designer Minds offer a huge variety of activities and challenges from the full spectrum of Science, Technology, Engineering, Art & Maths. Children, aged 7 to 13, will produce stop-motion animation movies, make slime, build and code robots, solve maths problems using Minecraft, undertake engineering challenges with LEGO, Knex and much more.
"Through introducing children to a huge range of different STEAM topics, we hope that the children find subjects which really ignite a curiosity and passion in them. Children nowadays live in a world surrounded by technological tools, engineering toys and experimentation kits. We aim to start them on the path towards becoming the problem solvers, the creators and the innovators of the future, by showing them just how rewarding, fun and exciting it can be to explore, make, create and innovate.", Donal Lyne, Designer Minds.
To find details of your nearest camp and book online, visit www.designerminds.ie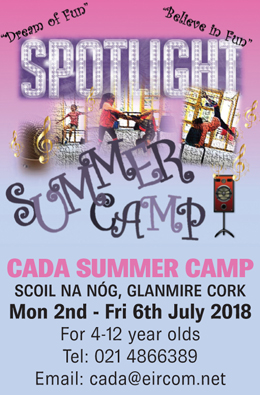 SPOTLIGHT CAMP at Scoil na nÓg, Glanmire, Cork from 2nd – 6th July 2018 is a summer camp full of music, dance and drama provided by fully qualified and professional teachers. This summer camp with a difference, incorporates Irish and French into the activities all through fun and highlights each child's talents. Exploring drama, scripts, plays and make believe, children will stretch, warm up, dance, play their favourite tune, and create moves from ballet to tap modern to football. Campers will sing on their own or with a group, create talent shows and enjoy multiple games and activities. The children can Dream of Fun, Believe in Fun, and at the Spotlight Camp Achieve the Fun. Children will return home happy, confident and loving the summer. Suitable for 4-12 year olds, all pupils will be in their age appropriate group. Early booking is advised, sibling discounts available. Call Caroline on 021 4866389 or email:cada@eircom.net