Win a SANTA – THE EXPERIENCE family prize!
Closing Date: 30th November 2020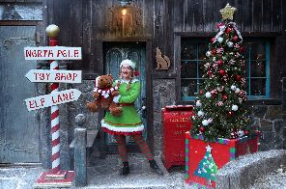 BRINGING THE MAGIC OF VISITING SANTA TO FAMILIES AROUND THE WORLD, FROM THE COMFORT & SAFETY OF THEIR OWN HOMES THIS HOLIDAY SEASON.
SANTA – THE EXPERIENCE is a magical interactive elf-guided journey through winter's busiest wonderland, along with a personal live video chat with Santa himself! Sleigh ride departures will run from December 1-24, with each live experience available from €29.95 and we have 2 family prizes to give- away.
SLEIGH RIDE DEPARTURE TIMES AVAILABLE FOR BOOKING NOW AT SANTATHEEXPERIENCE.COM
For your chance to win, simply answer the following question:
What day does Christmas fall on this year?
a) Friday, 25 December
b) Saturday, 25 December
c) Sunday, 25 December