What's on and where to go this Halloween in Dublin & Leinster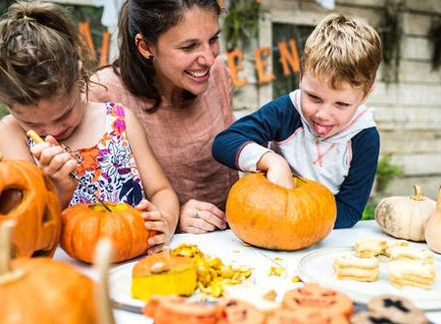 Did you know? In the ancient Celtic world Ireland, Samhain was the end of summer and the beginning of winter, and celebrated as All Hallows' Eve, later changed to Hallowe'en and Halloween. Take a look at what's on this month.
6th October - 3rd November, 2pm | SPIRITS OF MEATH HALLOWEEN FESTIVAL Meath
Spirits of Meath Halloween County Meath part of the Boyne Valley, the birthplace of Irelands Ancient East uniquely where it all began, is bringing you Ireland's biggest and scariest Halloween Festival – The Spirits of Meath Halloween Festival 2019!!
From Haunted Hills to Eerie Graveyards; Tour of Shadows to Friendly Witches & Spooks and Spells; Thriller Nights to Terrifying Terror Houses – The Spirits of Meath Halloween Festival 2019 will delight & fright equally!
www.spiritsofmeath.ie
12th October onwards | HALLOWEEN HARVEST DISPLAY
A popular annual celebration at Glasnevin with a huge variety of colourful pumpkins, gourds, squashes and lots of other plants for their Halloween Harvest Display. Try your luck at guessing the weight of the giant pumpkin – the prizewinner will be announced on Monday 4th of November. Daily outside the Education & Visitor Centre.
www.botanicgardens.ie
19th & 26th October, 2pm | Freaky Fashion – Halloween Costume Workshop Solstice Arts Centre, Navan
Make a Halloween costume with a difference! Craftswoman and prop maker Trisha of Creative Genie leads a fun workshop on how to design and make your very own unique costume that will definitely stand out from the crowd. Please contact Trisha in advance of this course with basic information regarding choice of costume so she can source relevant materials. Emails should be sent to Trisha on asktrisha@creativegenie.ie by 5 October.
One booking includes workshops over two weekends. Price: €45. Ages: 6– 10 year olds
www.solsticeartscentre.ie
20th, 28th-31st October | SAMHAIN CELEBRATION The Séamus Ennis Arts Centre
Naul will play host to ghouls, magic and mayhem as the village once again goes back in time to celebrate the ancient rural county Dublin traditions of Samhain culminating in our Halloween Parade on October 31st. Various halloween related arts & crafts workshops on each of the days.
www.tseac.ie
25th - 31st October | HALLOWEEN AT WELLS HOUSE Wells House & Gardens
Get your broomsticks and fangs at the ready and enjoy a Halloween themed scavenger hunt through the haunted forest followed by a fancy-dress disco for your little monsters to enjoy. This is a daily event and included in your gate entry token.
Price: €10 per car www.wellshouse.ie
26th October – 3rd November, 9am | HALLOWEEN AT BIRR CASTLE
Birr Castle Gardens will host a wide programme of exciting activities over the Halloween Midterm break with a Family Quest with a spooky twist, seasonal movies, face painting, dress up competitions, pumpkin trails, cup cake decorating and seasonal arts and crafts. All activities are included in your general admission tickets, but some of the events have limited places. Limited places for the Arts & Crafts Workshops. Pre-registration upon arrival, allocation will be based on a first come basis. See www.birrcastlegardens.com for full details.
www.birrcastlegardens.com
26th October – 1st November, 10am | HALLOWEEN AT LULLYMORE Lullymore Heritage and Discovery Park
ITS BACK……Lullymore Heritage & Discovery Park hosts its now infamous "Halloween Happenings" for SEVEN spooky days Saturday 26th October to Friday 1st of November 2019 – 10am to 6pm Daily. Lots of ghastly ghouls and terrifying treats in store at Lullymore including Haunted Holograms, Terror Train Trips (be prepared for Zombie Attacks!!), Terror Treasure Hunts and freaky fun in the devilish den of play—the Funky Forest. Price: Usual Family Admissions apply e.g. €32.00 for family of 4 – no extra cost for Halloween Event (1 Terror Train Trip included)!
www.lullymoreheritagepark.com
Dublin Ghostbus Tour
Dive into the depths of Dublin's spooky side on the city's only Ghostbus for kids. Hear the spinetingling tales of Misery Hill as you journey through the streets of a city with over a thousand years' worth of scary stories to be told. Learn of Mad William's taste for human brains and how Dublin inspired the one and only Bram Stoker to create the most feared monster of all time: Count Dracula.
Venture into Dublin's first and only Ghostbus tour for kids and be taken on a hair-raising tour of oneof the spookiest cities in the world. The Ghostbus Kids tour is filled with comedy and chilling tales of Dublin's darkest secrets. On this tour you will be driven around all the ghastly sites in the city while your entertaining guide shares some hilariously horrid accounts of which grisly happenings occurred and where. Adults: €15 Children: €15 Dublin Ghostbus Kids Tour every Saturday. There are three tour times: 11am, 1pm and 3:30pm. The tour lasts about 1 hour and 15 minutes. www.dodublin.ie
25th – 28th October | BRAM STOKER FESTIVAL
Dublin City will celebrate the life, work and legacy of Dublin horror novelist Bram Stoker and his gothic novel "Dracula". Whether you're a resident vampire or visiting from further afield, the Bram Stoker Festival 2019 has something for everyone in its gothically inspired programme of events!
www.bramstokerfestival.com
26th - 28th October, 12pm | HALLOWEEN AT DUBLINIA
Delig Inis theatre group present their annual performance. Hear about the supernatural and ghostly happenings around medieval Dublin. But are they true? Find out at Halloween.
Suitable for all ages. Performances running every 15 minutes from 12pm to 1pm and 2pm and 4pm.
www.dublinia.ie
Sat 26th Oct to Sun 3rd Nov | LOUGH SPOOKEY FEST
Halloween Lough Spookey Fest at Lough Key Forest & Activity Park in Boyle, Co. Roscommon takes place from October 26th to November 3rd, 2019! Fun family events include a themed Visitor Centre, Science and Slime Experiment classes, Magic shows with balloon modelling, ghoulish treats in the Lakeside Cafe and more… Open all year round, Lough Key is home to Ireland's only tree canopy trail, with caravan & camping park in landscape mixed woodland, adventure play kingdom, Boda Borg and Lakeside café. Check out their Lough Key Spooky Halloween events on www.loughkey.ie and follow on Facebook.
Other activities include a Mini Jeep experience for kids, bike hire, boat tours and Zipit forest adventures. Overnight stays are available in the Caravan and Camping Park in a spacious scenic woodland setting. New showers, toilet facilities, recreation room and cooking facilities are located just 100 metres from all the fun activities. Call Lough Key Forest & Activity Park on 071 9673122 email bookings@loughkey.ie and visit www.loughkey.ie
26th - 31st October | MAGICAL PLANTS
It's all about Magical Plants this Halloween in the witch's garden. Join the coven to find out more about using garlic to ward off vampires, plants for potions and spells, poisonous plants to murder your evil enemies and even some rarely seen invisible plants. Erasmus Education Garden.
www.botanicgardens.ie
26th October-31st October, Various Times | HALLOWEEN IN THE TEAROOMS
Brambles annual cookie creations and stories have become very popular with the young children at this time of year!
www.russborough.ie
27th October to 4th November-12pm to 5pm | HALLOWEEN AT KILDARE MAZE
The Kildare Maze opens its doors for some Halloween fun this October. Families can take part in the usual activities like the Wooden Maze, crazy golf, zip-lining, adventure trails and the toddler play area. There will also be the added event of the Halloween Hunt, where the kiddies can take part and search for all the hidden ghouls and goblins! There will also daily prizes for the best dressed, so make sure you come in fancy dress. Kids can also take part in pumpkin carving with adult supervision. www.thekildaremaze.com
28th October, 2pm | DRACULA'S DISCO at The Ark
Get in the spooky spirit with Dracula's own DJ spinning the decks and scratching vinyl for a family music and dance party with DJ Will Softly who will be playing all the latest hits for you to enjoy complete with confetti cannons to inspire some seriously deadly dancing! Don't forget your costumes! Part of the Bram Stoker Festival 2018. Ages: 5 + Price: Free entry on first come first served basis.
www.ark.ie
26th - 28th October | HALLOWEEN TREASURE TRAIL at Belvedere House & Gardens, Mullingar
Belvedere House, Gardens and Park are great to visit at any time, but the Halloween Treasure Trails are particularly wonderful for families. Expect lots of fun and treats. Booking online is essential. Price: €6
www.belvedere-house.ie
26th to 31st October | Clontarf Pet Farm Halloween Festival
Clontarf Pet Farm Halloween Festival is back! They host a spooktacular event with the Haunted House, Witches, Story Telling & more. They will also have a pumpkin patch where you can go and pick your perfect pumpkin!
27th to 31st October, 9am to 5pm | HALLOWEEN AT KILDARE FARM FOODS
More family fun is to be had at Kildare Farm Foods. Come in fancy dress and hop on the Spooky Choo Choo Train- be sure to hold on tight! Take the little ones and wander around the Scarecrow Woodland Trail and explore the nooks and crannies.
October 26th until 31st | Kildare National Stud SCAREFEST
Join Prince, Bertie & Dipper when they don their saddles and bridles to offer pony rides to all their little visitors. They've taken some rest after the summer and are now raring to get going again and may have some appropriate decorations too!
Join them from 11:00 am-3.00pm on the dates above for a chance to hop on board a pony. Face painting obligatory whilst you wait!
Hopefully the ponies won't be too afraid of your little ones however, as they are invited to dress up in their scariest outfits!!!
But wait, that's not all!! Enjoy magic shows from 11:00 am – 3:00 pm, as well as their spooky monster slime workshop!!!
Finally, all ages can explore t spooky tunnel experience. Travel in the darkness and try not to get too scared!!
All the regular attractions are still available including an opportunity to meet the Living Legends team, take the fairy trail route through St Fiachra's or skip along the stepping stones in the Japanese Gardens for hours of outdoor fun. For the greatest skeleton of all – pop in to the museum!
This is a full day out so allow 4/5 hours to really make the most of it. The cafe will be serving seasonal recipes along with the usual cakes and treats – and for a great warm up, hot chocolate and marshmallows all round!
All events are included in the admission prices. Event suited to a younger audience.
Mon 28th Oct – 1st Nov 9am – 2pm | SPOOKY SCIENCE HALLOWEEN ONE DAY CAMPS Junior Einsteins Science Club
Junior Einsteins Science Club are now taking bookings for their popular one day camps across Dublin, Meath, Kildare and Wicklow. Double toil and trouble, fire burn and caldron bubble .... your child will love this fun Halloween camp making their own magical potions and crazy experiments such as…Disgusting Slime Monsters, Spooky Fog fun, Glow in the Dark eye balls, Ozzy Bubbling Slimey Mixtures, Flying Rocket Bats, Frankenstein's Monster – electrocution!, The Elephant Man – Crazy chemical reactions, Murder! - Forensics lab, Vampire Blood and Gorey Heart, Guts – Gross Digestion, Skeletons- human and beyond! Ages: 6-12yrs. Cost: Ä40 per child (5% sibling discount).
www.junioreinsteinsscienceclub.com
29th - 31st October, 11am | Creepy Crafts Halloween Camp Solstice Arts Centre, Navan
Join Trisha from Creative Genie to create some spooky crafts to add that scare factor to your Halloween displays. Learn lots of new skills over three days of crafting fun, painting, sculpting, weaving and more. Places are limited to ensure maximum attention; all materials will be supplied. Old clothes and a small snack are advisable. Under 6's can attend with a guardian to help.
Price: €60 Ages: 6– 10 year olds
www.solsticeartscentre.ie
Tues 29th Oct – Fri 1st Nov | CHOCOLATE WAREHOUSE
The Chocolate Warehouse is a world of pure imagination where they are celebrating over 14 years of Chocolate Workshops. Ireland's original and best Chocolate Workshops were started in 2001 by Natasha Caffrey granddaughter of the late Thomas Caffrey known as The Irish "Willy Wonka".
www.chocolatewarehouse.ie
30th October | MEET THE BARBER SURGEON Dublinia
Haircuts, dental extractions and the removal of arrows on the battlefield. What does a Barber pole actually represent and how important is that draft of ale? All the guts and gore of medieval surgery too. Ages: All
www.dublinia.ie
October 31st from 10am to 6pm | HALLOWEEN AT GO KIDS GO Go Kids Go! Play and Party Centre, Coolmine
Have a howl of a Halloween this year at Go Kids Go's Halloween Fest SPECIAL OFFER – Admission only 5 all ages for 90 minutes playtime on October 31st making Halloween Fest at Go Kids Go! fantastic value for the family. A family of 2 adults and 2 children will get in to the Adventure playground for €10 in total!
Families with monsters or fairies will have a hauntingly good time as they experience the thrills 'n' chills of the Adventure Playground. To really bite the Halloween apple, Go Kids Go! will be transformed into a (not too) scary Playground for the week.
Make sure to dress to impress and look scarily good if you plan on joining in the fun, as you could be in with a chance to win some fantastic prizes in the costume competition – adults too!
All of these additional activities are included in the special offer admission price.
www.gokidsgo.ie
31st October | Eat, drink, and be scary, Saturday Tricks and Treats at the Butlers Chocolate Experience this Hallowe'en!
With schools out and ghouls out for Hallowe'en mid-term, the Butlers Chocolates Factory Tour in Dublin has a spooktacular experience for chocolate lovers of all ages.
The bewitching chocolate factory tour promises to be hauntingly good fun for all the family and all the ghouls and gals can wear their scariest Hallowe'en costumes for the chance to win a fabulous prize each day.
Butlers 'boo'tiful white witches and skeleton staff will escort the tour, introducing the Butlers Chocolate Movie and the interactive Chocolate Museum. Just like a school for spooks, visitors learn where chocolate comes from and how it was discovered, as well as seeing how exactly their favourite chocolates are made in a real working chocolate factory.
In the Experience Room, as if by magic, Butlers chocolatiers demonstrate how they produce all the delicious chocolates and sweet treats. And, everyone can decorate their own chocolate pumpkin to bring home as a tasty souvenir.
The Butlers Chocolate Experience costs €14.25 per person when booked online and includes entry to the Chocolate Movie, the interactive Chocolate Museum, the Chocolate Gallery and the hands-on Chocolate Experience room, with lots of tasty chocolate treats throughout.
The tour lasts about an hour and a half and the Butlers Chocolate Experience is very accessible in Clonshaugh Business Park, 5 minutes from the M50/M1 junction. Complimentary onsite parking and the building is fully accessible. Online Pre-booking essential Family ticket €52.25 Online only with under 3s Free!
www.butlerschocolates.com/book to save 5% on entry or call 01 6710599
Scarily good packages for all the family on a luxury break to Lyrath Estate this Halloween
Taking a trip to the stunning Lyrath Estate with the family for a luxurious 2-night break is an ideal way to spend the midterm break.
Located just 1.2km from Kilkenny, its 170-acre grounds offer families the perfect destination for a short break away with access to everything on site.
Reilly's Fun Club will be running a host of fun & exciting activities with complimentary morning and evening Halloween themed events. A playground and private cinema will keep the kids entertained. Adults can unwind in the relaxing thermal suite, which features a stunning hydrotherapy pool, or immerse themselves in a revitalising treatment in the award-winning Oasis Spa.
The Halloween package includes dinner for both parents on one evening with breakfast included on both mornings. The Halloween package for 2 adults & 2 children is €195 per adult sharing. Children under 4 included in the price, with a €25 charge per child per night aged 5-12. Tel (056)7760088
www.lyrath.com
The Rediscovery Centre Ballymun
Are you looking for some fun activities for your children October mid-term holidays? If so, come join their Education team and get involved in some terrifying Hallowe'en hands-on activities!
The Hallowe'en Camp includes a variety of fun and educational activities, games, experiments and arts & crafts to stimulate children's curiosity and interest in the world around us. Over the 4 days they will be busy hunting for spiders and other creepy crawlers in hedgerows, picking and carving gruesome pumpkins grown in their own vegetable garden, making mini-scarecrows as well as lots of spooky arts & crafts. Fancy dresses made out of recycled materials and a ghoulish team challenge will culminate in a horrifying finale on the Friday, so book early to avoid disappointment! Ages 6-12 Experienced Facilitators are Garda vetted. Tel 01-8933801
www.rediscoverycentre.ie/events