Junior Einsteins launch 3 new Franchises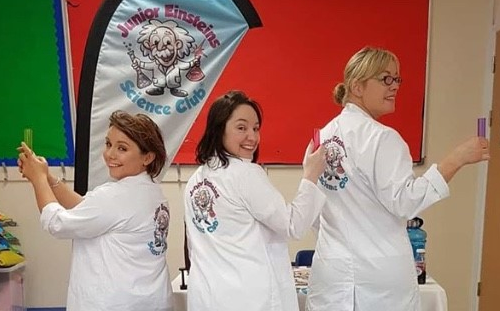 Junior Einsteins HQ are pleased to announce the launch of Junior Einsteins Science Clubs in Counties Louth, Meath & Kildare. Owner Operator Maureen Hoey is the franchisee and the driving force bringing WOW factor Science experiments to the children of Co. Louth along with Claire Brett, a former Junior Einstein's employee in Co. Kildare and James Murtagh also from Junior Einsteins HQ in Co. Meath . Each will be running science after-school clubs, during school clubs, whole-of-school science shows, workshops, summer, Halloween and Easter science camps and science birthday parties, along with science corporate and family events and festivals.
Junior Einsteins Science Club® was created in Dublin, Ireland by Tracey-Jane Cassidy MA MSc. Since its launch less than 6 years ago Tracey Jane Cassidy and her team have engaged with over 500,000 children through their scientist designed and developed educational programmes.
If you like working with children, have a passion for STEM and have a strong work ethic you may be an ideal candidate for this proven profitable business model. You do not need any formal qualifications to run the Junior Einsteins Science Club® Franchise however a science background or teaching qualification is an advantage. Having enthusiasm, energy and drive to run a successful business are paramount.
For further information please do not hesitate to call. Tracey-Jane Cassidy CEO Junior Einsteins Science Club® Ltd. Ph: 00353 858077310 Email: franchise@junioreinsteinsscienceclub.com
www.junioreinsteinsscienceclub.com