Kids Party Guides Munster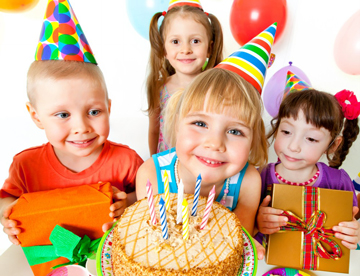 DUBLIN & LEINSTER | MUNSTER
It's PARTY TIME at PERKS FAMILY ENTERTAINMENT CENTRE & INDOOR FUNFAIR in Youghal Co. Cork!
There are Bronze, Silver and Gold Party packages to suit all ages, and because Perks is entirely indoors it is ideal for those wet wintery afternoons. Perks can take care of it all - you just have to pick your activities and be there on the day! You can choose from Bowling with free shoe hire, Blackbeard's Adventure Playcentre, Lazer Tag and Kiddie Rides including the Carousel, Ladybird and Bumper Boats. (Height restrictions apply on some rides and activities). All parties include an exclusive party area, choice of party menu, (Burger/Sausages/Chicken Nuggets all served with fries and a drink), ice cream birthday cake, a super present for the birthday child, party hats and party bags for all guests, birthday certificate and birthday card with a return visit VIP voucher for the birthday child. Gluten Free option is also available (must be pre-booked). A group photograph is also taken so you can take home the memory of your special day and you can even download the picture from the Perks website. The party child can become King or Queen for the day on their own special throne and a party host will be on hand to make sure that your party runs smoothly. All guests are entered in a draw to win a FREE party and Mam and Dad receive complimentary tea or coffee. Perks also boasts a disco room which is available with all Silver and Gold packages. The disco room is used exclusively for parties and is not open to the public. The Gold package includes extras such as Face Painting, a turn on Derby Racer, and a VIP voucher. To book a party call 024-92438 or visit www.perksfunfair.com Party invitations can be downloaded and printed from the website so everything is taken care of from start to finish!
Fun and excitement is guaranteed at MOVIE JUNCTION DRIVE–IN CINEMA: Cork's premiere cinema experience. An amazing experience awaits you seven nights a week right on your doorstep. Take children to see the latest Disney release or treat the family to a night out with a difference. All the latest action packed movies, comedies and animations are available all year round and are a great way to celebrate a child's birthday. Optional pizza or freshly made popcorn delivered to your car! Birthday Parties or Parent Association fundraising events are very easy to organise – call 087 2471477, see Facebook and www.moviejunction.ie
Birthday parties at the MODEL RAILWAY VILLAGE in Clonakilty offer the perfect balance between free play time and a guided tour. Birthday Party Packages include one hour exclusive use of their indoor playroom, visit to the Model Village and a ride on the Choo Choo road train. Step back in time and see life as it was in the 1940's, with the old West Cork railway line portrayed in delightful miniature! Bring your own food and drink and use the café but don't worry, friendly staff will take care of the rubbish and clean up. Call for more information on 023 88 33224 and email: modelvillage@eircom.net
KARTMANIA is Cork's premier karting, Tag Archery & Paintball facility. Conveniently located just 10 minutes from Cork city centre, it's a MUST for all visitors and thrill seekers in the Cork area! Kartmania specialises in the provision of fun for all the family and offers all-inclusive party packages for all ages and children's parties. Kartmania has over 6 years experience in providing visitors with a day out to remember. There are a choice of kid's party options including indoor karting (from age 4+), Paintball Tag Archery, or Princess Pamper Party Packages. Call 021 2408000 email: info@kartmania.ie and visit www.kartmania.ie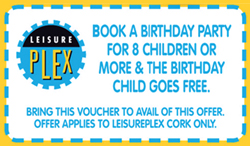 LEISUREPLEX CORK offers an exclusive range of birthday party packages to suit all ages. Choose from Bowling and Quasar to create your perfect birthday party. Bowl your way to your best party ever with fantastic bowling lanes or battle it out in Quasar and see who the Top Gun is. Can't decide on one activity? Leisureplex has it covered with an amazing "Double Up" party package which allows you to select any two activities to create the birthday party you want. One activity and Luciano's Pizza €12 (anytime); or two activities and Luciano's Pizza €16 (anytime). All parties include: party host upon arrival, free invitations, food, drink, and a present for the birthday child. For more information on Leisureplex Cork Birthday Packages, special offers and to book a party, visit www.leisureplex.ie or contact 021-4505155. PRIMARY TIMES EXCLUSIVE OFFER: BOOK A BIRTHDAY PARTY FOR 8 CHILDREN OR MORE & THE BIRTHDAY CHILD GOES FREE - BRING THE VOUCHER FROM THE LEISUREPLEX ADVERT TO AVAIL OF THIS OFFER! OFFER APPLIES TO LEISUREPLEX CORK ONLY.
Let your child enjoy a birthday party with all their friends at LEAHY'S OPEN FARM near Midleton, Co. Cork.
All party packages include entry to the farm, petting times with the animals, hold the snake and rabbits, feed the lambs and see Daisy the cow being milked. Enjoy playtime in the large outdoor play areas, soft indoor Playbarn, Quad and Barrel Train rides, Climbing Frame, Adventure Trail, Crazy Golf course, large maze, and a big 'drop' slide and pedal go-karts. There are FIVE party packages to choose from! Option1: Farm entry, pet the animals, barrel train spin €9.50 each. Option2: Farm entry, pet the animals, barrel train spin; plus chips, sausage/nuggets & drink €13.50 each. Option3: Farm entry, pet the animals, barrel train spin, Digger ride; plus chips, sausage/nuggets & drink €15.50 each. Option 4: Farm entry, pet the animals, barrel train spin; plus chips, Digger ride, crazy golf, sausage/nuggets & drink €16.50. Option5: Farm entry, petting the animals, barrel train spin; plus chips, Digger ride, crazy golf, plus party bags for all kids; and sausage/nuggets & drink €18.50. ALL party packages include your own guide for 3 hours; 2 adults go free with each party; and under 2s enjoy free entry. Minimum 8 paying children per party, discount for Leahys Open Farm members. Birthday Cake extra: ice cream cake made with homemade ice-cream from Daisy the Cow €20 for 10 kids or €30 for 15 kids. Party Package enquiries on 083 8488142 E: info@leahysopenfarm.ie www.leahysopenfarm.ie
Have a birthday party at the Castle! BLACKROCK CASTLE OBSERVATORY offers space-themed fun-filled birthdays unlike any other! SCIENCE MAGIC: suitable for 5-6 year olds and lasts 2 hours with an hour long, age-appropriate science workshop, science exhibition trip, Planetarium show and a trail-tour round the 16th century casle using a treasure map! Party package includes exclusive use of the MakeSpace room for presents, cake and snacks. COSMIC BIRTHDAYS: suitable for 7-12 year olds and last 2 hours with an hour long, age-appropriate alien workshop (all ages) or rocket workshop (age 9+) exclusively for your party guests. The workshop is followed by a guided visit to the interactive Cosmos at the Castle exhibit, and a trip to the Planetarium and Pan Galactic Station. After a tour of the castle, use the MakeSpace room exclusively for your party group presents, cake and snacks. The CASTLE CAFÉ can provide kids meals in the MakeSpace room for an extra charge – or bring your own food from home. Booking essential on 021-4326120 or E: info@bco.ie