Back to School 2020 - How much do you spend?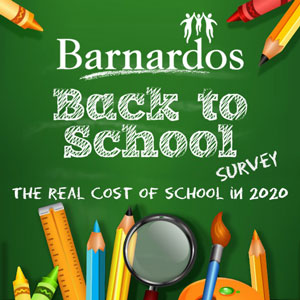 It's hard to believe it's that time of year again – Back to School. But this year is very different for school pupils in Ireland.
Each year we listen to parents and let the Government know just how much it costs to send a child to school. We remind the Government of their responsibility to deliver truly free education for all.
This year is different. The Covid 19 pandemic has meant families across Ireland have had to make substantial changes at home. There still remains a huge amount of uncertainty about what returning to school in September will look like.
We have widened our survey to include how parents and children are feeling about the return to school.
If you have a child in school, please spare 10 mins to take Barnardos' Back to School Survey 2020.
If you have a child in primary school, take this survey > PRIMARY SCHOOL