SHORTLIST FOR THE KPMG CHILDREN'S BOOKS IRELAND AWARDS 2021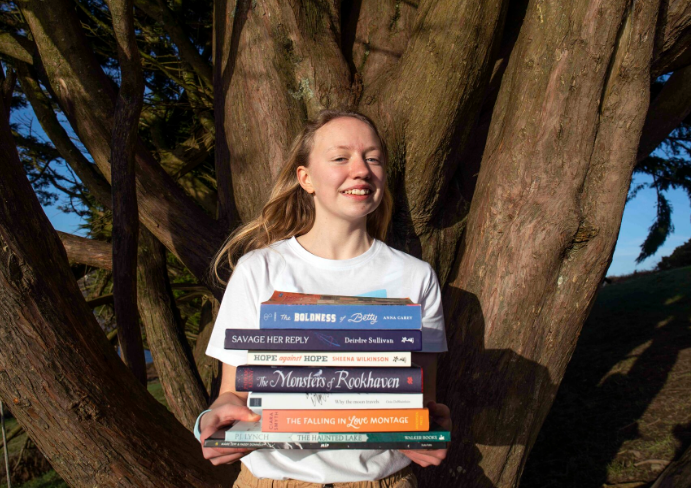 The titles competing for this year's KPMG Children's Books Ireland Awards have been revealed today, Tuesday 9th March, giving an impressive and powerful picture of the status of contemporary Irish children's literature. The shortlist includes a collection of folk tales rooted in the oral tradition of the Irish Traveller community, a picturebook in the Irish language, and two historical novels – one set in Dublin during the 1913 Lockout, the other in Belfast in 1921 during the partition of Ireland. The selection is made up of a spread of books for young readers of all ages – from picturebooks to young adult novels, and of the eight shortlisted titles, five are published by independent Irish publishers.
Founded in 1990, the KPMG Children's Books Ireland Awards are the most prestigious awards for children's books in Ireland and are a celebration of Irish writing and illustration for younger people. The eight shortlisted titles will compete for a total of six awards, with the winners to be announced at an online ceremony on 25th May by book-loving broadcaster Rick O'Shea as part of International Literature Festival Dublin. Taking the role of 'Young Judge' for this year is Sarah Fitzgerald (17) from Kinsale, who has read ninety-nine books as part of the judging process.
The shortlisted titles are:
Hope against Hope written by Sheena Wilkinson
Míp written by Máire Zepf and illustrated by Paddy Donnelly
Savage Her Reply written by Deirdre Sullivan and illustrated by Karen Vaughan
The Boldness of Betty written by Anna Carey
The Falling in Love Montage written by Ciara Smyth
The Haunted Lake written and illustrated by P.J. Lynch
The Monsters of Rookhaven written by Pádraig Kenny illustrated by Edward Bettison
Why the Moon Travels written by Oein DeBhairduin illustrated by Leanne McDonagh
For the youngest readers, Míp, by Máire Zepf and Paddy Donnelly, tells a humorous tale of space adventure through the marvellous interplay of text and image. The Haunted Lake, by world-class illustrator P.J. Lynch, takes readers age 7+ on a journey from this land to a ghostly otherworld.
For ages 10+, Oein DeBhairduin and Leanne McDonagh's Why the Moon Travels shares superb stories from the Irish Traveller community; Pádraig Kenny and Edward Bettison's The Monsters of Rookhaven is a dark and gripping adventure full of expertly realised characters; and through skilful storytelling, Anna Carey's The Boldness of Betty offers a detailed insight into the plight of workers in Dublin in 1913.
For teen and young adult readers, Sheena Wilkinson's excellent Hope against Hope is a moving story of a young woman facing prejudice and violence in a divided society; Ciara Smyth's witty and engaging coming-of-age novel The Falling in Love Montage shows we cannot control the future, no matter how hard we try; and the chilling story of the Children of Lir receives a magnificent retelling in Savage Her Reply by Deirdre Sullivan and Karen Vaughan.
Children's Books Ireland, the national charity and arts organisation that administers the awards, will as ever be working closely with 'Junior Juries' – groups of children and young people who will read and judge the shortlisted titles. The Juries' scores decide the winner of the Junior Juries Award, giving children a real way to participate in the awards and make their voices heard. The awards judging panel also includes the 'Young Judge' who reads and adjudicates alongside their adult counterparts.
This year's Young Judge, Sarah Fitzgerald (age 17), said: 'Joining the panel for this year's KPMG Children's Books Ireland Awards was an incredible process which I enjoyed from start to finish. Reading my way through the treasure trove of Irish books was by far my highlight of 2020. Each judge contributed so much to the panel, and the insights and perspectives put forward taught me so much, and I am so grateful to have been a part of it all. I cannot imagine doing anything differently, the whole process was fun, transparent and insightful. I was made feel so welcome by everyone, and it was clear that, as a young person, my thoughts were valuable to the group. Hearing the voice of someone immersed in children's books is so important in the process. And whilst we all enjoyed the process we certainly worked hard!'
In total, six awards will be made: The Book of the Year Award, The Honour Awards for Fiction and Illustration, the Judges' Special Award, the Junior Juries' Award, and the Eilís Dillon Award for a first children's book, named in honour of the revered Irish children's author Eilís Dillon.
Elaina Ryan, CEO of Children's Books Ireland, said: 'In an incredibly challenging year, our judges have worked tirelessly to maintain the integrity of these important awards, whittling 99 books down to just eight. We are so grateful to our sponsors and funders for ensuring that young readers are supplied with books and get the opportunity to meet the wonderful artists behind them.'
Seamus Hand, Managing Partner, KPMG Ireland, stated: 'Our support of these awards emanates from our interest in learning and our commitment to literacy. They celebrate the truly fantastic talent for storytelling and illustration across our island and we're very proud of our continued involvement in such an exciting and worthwhile awards programme.'
The KPMG Children's Books Ireland Awards recognise excellence in writing and illustration in Irish or English and are open to books by authors and illustrators who were born in Ireland, are permanently resident in Ireland or are citizens of Ireland and which were published between 1st January and 31st December each year. Founded in 1990, the Awards are the leading children's book awards in Ireland. Each year a panel of judges read all of the books submitted by publishers, some ninety-nine titles in 2020, and a shortlist is announced in March, with the final awards ceremony taking place in May. Previous winners include Máire Zepf for Nóinín, Kelly McCaughrain for Flying Tips for Flightless Birds, Deirdre Sullivan and Karen Vaughan for Tangleweed and Brine, Chris Haughton for Goodnight Everyone, and former Laureate na nÓg Sarah Crossan for One.
The KPMG Children's Books Ireland Awards and Junior Juries programme are kindly supported by the Arts Council/An Chomhairle Ealaíon, the Arts Council of Northern Ireland and the Ecclesiastical Movement for Good Awards.