Teaching children the value of money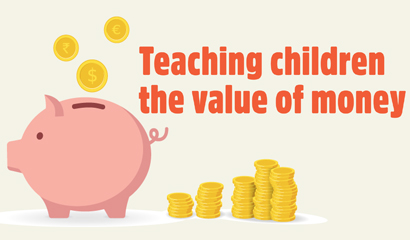 Primary Times explores the ways you can teach children about the value of money
With an increase in contactless card payments, online transactions and ATMs, children may happily believe that money is an everlasting magical currency. However, as we enter the festive season aﬞ er the financial affects of Covid-19, money might feel tighter than ever. This makes it the perfect time to teach children the value of money and good spending habits. Primary Times have come up with four ways both younger and older primary school children can learn the concept of money in our modern, digital world.
Awareness while shopping
Real world situations are the best way of understanding the value of money. From a young age, children can help while food shopping by choosing items based on price and value. You can gradually increase this responsibility until they can be tasked with their own small shopping list and budget. This can grow a child's confi dence in positive money spending habits and allow them to understand how money is used, budgeted and saved.
Creating these fun tasks while shopping will also make the food shop less boring for a child and challenge their logical thinking outside of the school setting.
Pocket money
The best way we understand the value of money is by earning it. Giving a child pocket money only when it has been earned can help children to budget correctly and spend their money on something important to them, instead of buying the fi rst thing they see.
Whether it's given for completing chores or rewarding good behaviour, making pocket money an earned payment highlights to
your child that hard work can pay off and that money isn't endless.
Try making a reward chart in chart in your home that tells your child how much money a task is worth. If your child wants to buy something, maybe a toy for themselves or a special Christmas giﬞ for somebody else, help them with their math skills to figure out which
tasks are needed to buy the toy.
Starting a bank account
For older children, a bank account can be a great way of geמּ ing a first-hand understanding how electronic money, card payments, statements and interest rates work. While a parent or guardian should always be present to answer banking questions and monitor any spending and saving, a bank account is a great way for a child to feel independent and responsible while also actively learning the ways of modern banking. Each bank is diff erent so spend time checking which is the best fi t for you and your child. For example, children aged 11+ can open an Under 19s Account at Lloyds bank. This gives a child under supervision access to a contactless debit card, small interest rates, and mobile banking. At HSBC, children as young as seven can open a MySavings account that allows them to save up for something special and track their progress using a bank. *
Money games
Learning about money doesn't have to be boring chore for children. There are many games that can be used to teach financial understanding for all ages. For young children, role-playing money situations such as shopping checkout can allow them to understand the process of paying an exact amount for an item. As children get older, these games can become more advanced by adding math puzzles or teaching them to play Monopoly.
*All bank information stated is subject to change. Please check the bank website for the most up to date information.