CHOOSING A SECONDARY SCHOOL FOR YOUR CHILD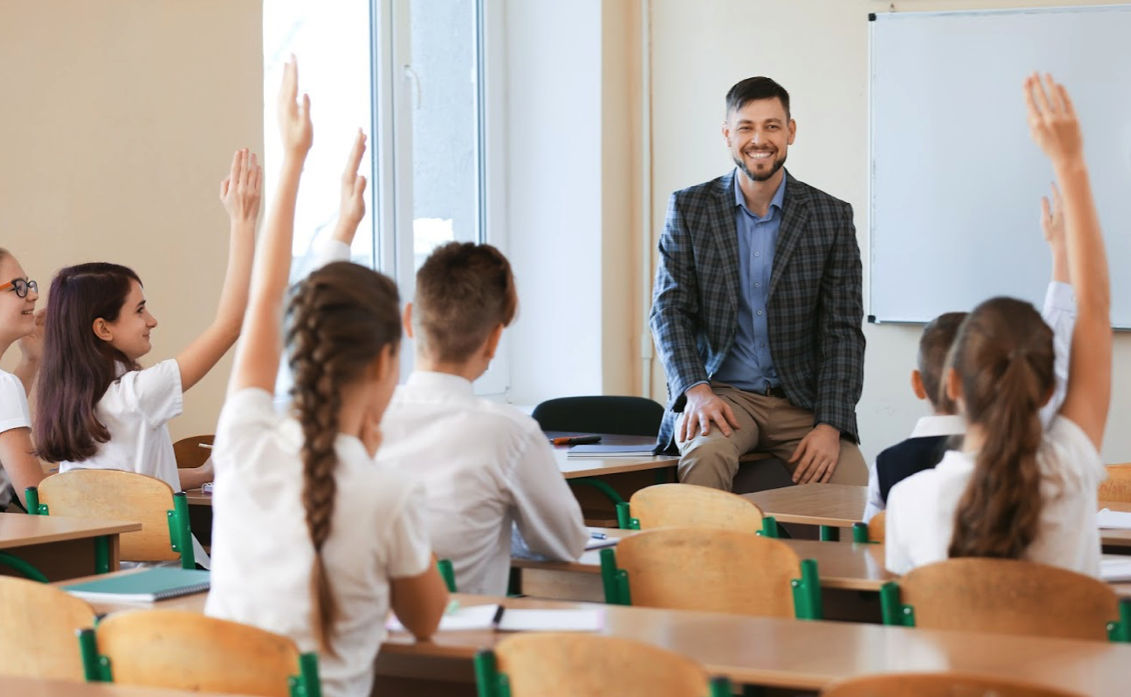 Primary Times have compiled some helpful advice to help take away some of the Secondary School selection stress and help you make the best decision for your family.
Where to start?
The first port of call for a prospective parent is to check the websites of the local Schools – and you'll fi nd a wealth of information online regarding their ethos, school values, and even reports on their performance, funding and statistics.It's beneficial to do your homework on this and learn some key facts on the schools that are local to you. But, it's widely agreed that to really have an accurate view of a school it is essential to visit their open days and see it for yourself.
What to look for when attending Open Days
While a website can give you figures, a visit will reveal the school's true atmosphere. How contented do the students look? An open day is an excellent opportunity to see if a school's students are happy and relaxed, if they seem to have a good relationship with their teachers and if behaviour is on a level that you would expect.
Where you can, it's always useful to find out the head teacher's ethos and how they currently implement the school values – as well as what plans they have for the improvement of the school in the future. Some good questions to start with would be;
What are the school's current goals?
How are they supporting their students to achieve them?
If there's a Principal's talk scheduled, make sure to attend it! Or if the Principal is present at the open event, don't be afraid to approach them with a few of your questions.
When you get the chance, you should also always ask some students what they think of the school, if they like it, and how they feel about their teachers. Although the students you'll come across will probably have been hand-picked by the staff, it's likely that you can still get a good insight from them - there's little more honest than a teenager's opinion!
What makes a good Secondary School ethos?
Is a secondary school ethos really that important? Well, yes - it is! And here's why.
The ethos gives a direct insight into the culture that the staff at a school have worked towards creating. It will be the basis of the learning environment that they've aimed to provide, and what they refer back to when faced with challenges in the classroom.
So, it is important when choosing a school for your child to pick one that has an ethos and a value system that you resonate with. To make it a little easier for you, we've picked some key aspects of a good school ethos for you to look out for.
A positive school culture is one that 'CARES' –
look for an ethos that covers these five points;
Celebrating student's achievements
Access to support
Respect in school relationships
Emotional wellbeing
Safe environment
Virtual Online Open Days have proved to be poular and are the preferred option for some schools. Online open days/evenings can be a programme of live presentations and events taking place at a particular time on a particular day which families can engage and interact with from home or a 'virtual open day' may actually be a section of the school's website which offers specially crafted, pre-recorded content which can stay online in perpetuity, and is available for anyone to view. athdown School Open Day to take place as Senior School set to welcome boys in 2023
Rathdown School, one of Ireland's leading day and boarding schools, located in Glenageary, Co. Dublin will host an Open Day for prospective students of its Senior School on Monday, 19th September from 3 pm to 5 pm.
The school, which announced its move to coeducation earlier this year, will see boys join its Senior School in September 2023, having already welcomed boys to its Junior School this week as part of a phased transition to coeducation. From September 2023, Rathdown Senior School will welcome boys into each of its year groups.
Commencing at 3 pm, the Open Day will give parents and prospective students an opportunity to visit Rathdown School and learn more about its academic and extensive extra-curricular programmes. Attendees will have the opportunity to meet staff, parents, and students who will share their experiences about life at Rathdown School.
Rathdown's Senior School offers both a day pupil and boarding option to students from across Ireland and internationally, offering a friendly and caring home-from-home environment at the heart of the Rathdown community. Boarding will remain for girls only pending the construction of a new boarding wing for boys.
To attend Rathdown School's Open Day on September 19th from 3 pm to 5 pm, please register through Eventbrite: https://www.eventbrite.ie/e/open-day-rathdown-senior-school-19th-september-2022-tickets-407572609647 or by visiting www.rathdownschool.ie.
St. Kilian's Deutsche Schule
St. Kilian's Deutsche Schule is a coeducational, inter-denominational School spanning the full educational cycle from Kindergarten to Leaving Certificate. Their environment is nurturing, safe and caring. They value tolerance and difference, and support their students to be independent in thought, open-minded and confident.
St. Kilian's Deutsche Schule live a European educational experience through the languages of German and English through their shared Eurocampus.
The school population is diverse. Irish families have supported the school for generations, German families find a second home there and many nationalities, particularly European, are very well represented throughout the school. They celebrate Irish and German traditions with festivals of music, dance and drama throughout the school year.
While their primary education practised in St. Kilian's follows the Irish national curriculum and allows for subject specialist teachers, they also place a strong focus on the German language. German is taught intensively from 1st class by qualified teachers who are also native speakers. Whilst in their Kindergarten (Junior and Senior Infants) students are exposed throughout the school day to German as their class teachers are native German speakers too. It is not necessary for students – or families – to speak German when joining the school. The core curriculum is delivered in English while from 5th class students who are native speakers or who have achieved a high standard in German can opt for a programme which incorporates Science and Maths through German in addition to a more intense German language programme.
Physical Education is an integral part of the core curriculum delivered by Specialist and experienced Sports teachers. The children up to 4th class have a scheduled PE lesson every day. For 5th and 6th classes it is 3 times a week. The facilities are excellent too. They have a hockey astro, a soccer astro, a basketball court and a large gym hall with a full suite of gymnastic equipment. The extensive grounds and easy access to UCD offer endless opportunities for outdoor and adventure activities. At the end of the school day families can opt for one of the many, daily extracurricular activities including hockey, soccer, fencing, drama, chess and art. There is also an Aftercare programme until 5 p.m. each day. Visit on their Open Day
Roebuck Road, Clonskeagh, D14 P7F2, Ireland or call 01-2883323 www.kilians.com
St. Joseph of Cluny Secondary School for Girls
St. Joseph of Cluny Secondary School is an all-girls Catholic fee-paying school situated in Killiney, Co. Dublin. They were founded by the French Missionary Order of St. Joseph of Cluny in 1956 and are now a member of the Le Chéile Trust.
At Cluny, they offer students an opportunity to immerse themselves in a diverse array of subjects through their curriculum. They support each and every one of their students to fully engage in their subject choices to explore, grow and strive toward excellence. Alongside a diverse academic and curriculum-based subjects, students are also offered the opportunity to delve into their creative sides and hone their talents in co-curricular school activities. They offer students a chance to participate in a wide variety of sporting activities including hockey, badminton and basketball.
They would like to invite all parents and guardians of sixth class girls entering secondary school in September 2023 to visit the school on Thursday 22nd of September 2022 from 5 until 7:30 p.m. They look forward to welcoming you and your daughters to Cluny.
If you have any questions, please do not hesitate to contact them .
Tel 01 2855027 or visit www.clunykilliney.ie
Mount Anville Montessori Junior School
Mount Anville Montessori Junior School is a Sacred Heart Catholic private school with extensive facilities. They educate through the Sacred Heart philosophy aiming to support the development of each student academically, spiritually, morally, physically and socially. The educational programme follows the NCCA curriculum and is influenced by the principles and philosophy of Maria Montessori.
Primarily a girls school they welcome boys for Montessori level.
The school opens at 8.00am with play, preferably outside, where a catch up with classmates and some fresh air sets us up for the day. Their academic day begins at 8:50am. The learning journey includes activities such as music, drama, art, a wide variety of sporting options, French, IT, STEAM, wellbeing initiatives, and much more.
They offer a wrap-around childcare facility from 12.15pm to 5.00pm for Montessori. For the older girls, the classroom based day ends at 2:45pm, however they benefit from optional extra sport, music, homework club or other activities until 4.00pm or 5.00pm.
The school strives to provide a safe learning environment leading to the wholehearted engagement of both students and staff. They are an inclusive community where respect is fostered and we aim to instil a lifelong love and enjoyment of learning.
NAIS Dublin
Part of the Nord Anglia family of premium schools, NAIS Dublin is the only school in Ireland accredited to deliver the world-renowned IB curriculum in full, for students from 3 to 18 years old.
The world-renowned International Baccalaureate Diploma Programme gives students the knowledge and confidence to flourish in their further education and chosen profession giving them the drive, skills and desire to effect change in the world.
Teachers at NAIS Dublin strive to motivate every student to achieve the results they need for success. This is aided by small class sizes, proactive target-setting and continual academic monitoring, as well as a unique pastoral model which ensures students are happy and settled into school life. As a result, NAIS Dublin students are ambitious, believe in themselves, and go on to excel across the curriculum. The innovative use of data and analytics means teachers are equipped to guide students down the learning path most tailored to their strengths and interests.
At NAIS Dublin, learning doesn't stop at the classroom door. Students get to experience local and regional offsite trips and expeditions, which bring education to life through real-world application. No matter what their interests, every student can develop the confidence, resilience, creativity and learning skills that are critical for their future success. Students' curiosity is nurtured with truly transformative experiences, including activities through collaborations with world-leading organisations like UNICEF, MIT and Juilliard.
When you join NAIS Dublin, you become part of a vibrant international community of almost 50 nationalities. Parents play a supportive, proactive role in the school, making it a warm, inclusive place where everyone is welcome. South County Business Park, Leopardstown, Dublin, D18 Tel (01) 544 2323
The Children's House Primary Montessori School
Do you want your child to experience a child centred environment, develop a positive approach towards school/education, be part of a nurturing community? Then, The Children's House Primary is the school for you. Following core Montessori values they provide a child centred environment where each child can reach their maximum potential, becoming independent in their approach to learning, while keeping in mind the National School Curriculum. Low pupil to teacher ratio, After school activities, ECCE Places.
Online Open Evening on Wednesday 12th of October from 8-9pm please email info@childrenshouseprimary.ie for joining details.
The Children's House Primary Montessori School, Thornhill, Lower Kilmacud Road,Stillorgan, Co Dublin.
Tel: 01 288 0417
St. Columba's College
St. Columba's College is a Church of Ireland boarding and day school for boys and girls aged 11-18. Situated on the slopes of the Dublin mountains, overlooking Dublin Bay, the College enjoys the benefits of easy access to the capital with the charms of a rural setting. The small size of the school, just 330 pupils, is a fundamental part of the ethos because they believe in a strong sense of togetherness in an atmosphere which is caring and supportive of all. With high academic standards – among the very best in Ireland – almost all of their pupils go on to universities in Ireland. the UK or further afield. They encourage every individual pupil to get involved in the broader life of the College, whether it be in music, sport, drama, debating or public speaking. The aim is to develop well-rounded and happy boys and girls with the self-confidence to mix freely and easily with others, whatever their background or age. The College has invested heavily over the past 10 years in order to ensure that it provides its pupils with the best facilities.
Recent additions have been a newly refurbished state of the art Science Block, purpose-built and refurbished Boarding Houses, music rooms, a second Astroturf hockey pitch and additional classrooms and common rooms. In addition, the College library is second to none in terms of facilities and resources, and the Sports Hall provides facilities for indoor sport as well as a gym and a dance studio. The College offers 7-day boarding which includes Saturday morning classes, six afternoons of sport for all, and a comprehensive range of weekend activities for its pupils. Mark Boobbyer, the school's principal, says "busy parents see it makes sense to ensure their children's academic and sporting needs are met, while giving them the kind of structure they might not have at home. These are parents who may be struggling to get home in the evenings or rushing around on a Saturday taking them to hockey practice or music . . . when they see they can get all that under one roof, there's a lot to be said for it," he says. Please visit www.stcolumbas.ie or phone 01-4906791 for a prospectus. Alternatively join their Open Day on Saturday, 1st October 2022 at 10.00am until 1.00pm.
The Teresian School
The Teresian School in Donnybrook is composed of a Secondary, Junior and Pre-School with the commitment of a progressive and innovative team of teachers. Students are educated in an intimate learning environment and given personal attention from their dedicated teachers. They are a close knit and friendly school akin to a family. The strong sense of community with high levels of respect between students, staff and parents is something which they highly value in The Teresian School. The Junior School is a feeder school to the Teresian Secondary School, which is renowned for academic excellence and consistently appears in The Irish Times top feeder schools list.
At the Teresian School each student's individual talents and skills are encouraged and promoted. They provide their students with the guidance and support to develop their talents enabling them to reach their unique potential. The Teresian School's holistic, inclusive approach to education is based on the principles of Joy, Fortitude, and Love.
The Teresian Junior School has a limited number of places available for the coming school year, with the Secondary School accepting applications for 2023 in October. Please contact the school reception or visit their website for more information: www.teresian.ie