TOP TIPS FOR CHOOSING YOUR CHILD'S SECONDARY SCHOOL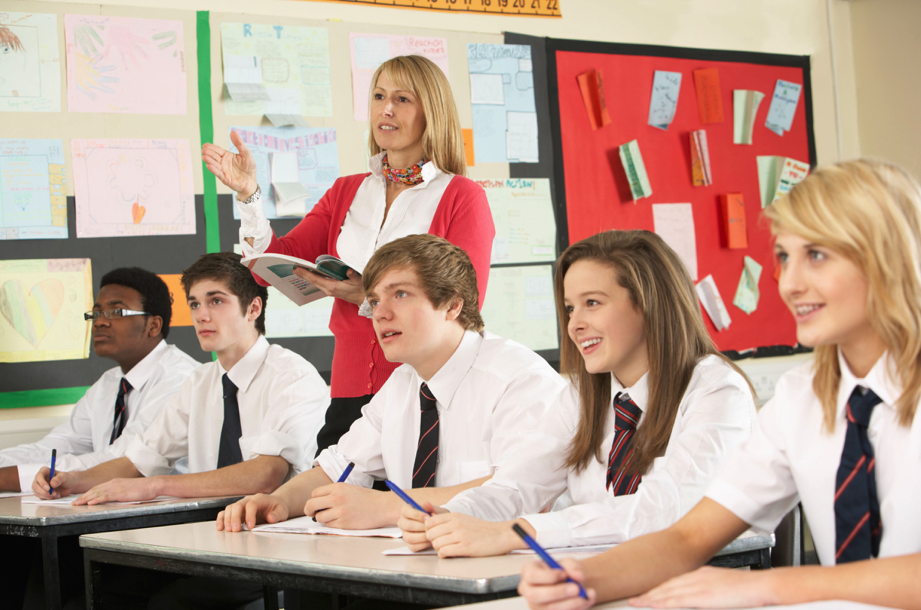 Primary Times have assembled some helpful advice to try and make searching through school options that little bit easier…
Amongst the excitement that surrounds your child about to go to secondary school, you might also find yourself feeling a bit overwhelmed and be wondering how it's all come around so fast. With so much information now readily available at your fingertips, it can seem like quite a daunting task to approach. Keeping an open mind and being as organised as possible will hopefully help you to consider your options and determine your preferences.
First things first - do your research
It's so important to make use of the resources available to you. Be sure to have a browse on the local secondary schools' websites. Consider if their core values and aims match your own, or if their facilities and approach to education suits your child's personality and needs. Inspection reports and Feeder School Tables published by The Irish Times and The Irish Independent can also be useful to read. Try to narrow down which school/s you prefer from the information found, and keep this in mind until you have also had the chance to visit in person.
Attend Open Events
Visit the open days and evenings held by prospective schools. Most of these events will include a tour, a talk from the Head Teacher and an opportunity to meet students and staff. Seize this opportunity with open arms and make the most of your visit. Explore with an open-mind to get a real feel of the school, and consider the opportunities on offer for pupils as well as the school's specialisms and facilities. Teenage students are generally quite honest with their thoughts about school, so keep an eye on how happy the pupils seem and how students and teachers interact with each other. It's also worth trying to visit again on a normal school day if you can, as an open day may not always be a true reflection.
Your child could be attending the school you choose for seven years, so you want to make sure you're covering all bases with your decision.
Consider location – If you live in a densely populated and competitive area for schools, being organised is key, schools will usually open their application process for the following school year sometime in the October of the previous year. Also think about the distance from where you live to the school of your choice in practical terms, and the accessible routes available to get there.
Ask questions – Don't be afraid to query topics and issues that are important to you. It might be worth asking the staff how the school approaches bullying/mental health issues for example, and how pupils are supported should challenges arise.
Speak with other parents – The opinions of family and friends that have older children already at secondary school can be worth considering. Other parents might have a more in-depth insight. It's important to trust your instincts but do take other parents' thoughts into account too where you can.
Ultimately, your child and your family's needs come first when deciding on a secondary school. Being organised and informed means that you'll be more likely to remain calm throughout the process, and this shows your child that they have nothing to worry about. Instead, you can all begin to look forward to this next chapter in their educational journey!
Rathdown School
Rathdown School, one of Ireland's leading day and boarding schools, located in Glenageary, Co. Dublin will host an Open Day for prospective students of it's Senior School and Junior School on Monday, 18th September from 3.30 pm to 7.30 pm.
The school, which announced its move to coeducation in early 2022, will now see boys join its Senior School in September 2023, having already welcomed boys to its Junior School last September as part of a phased transition to coeducation. From September 2023, Rathdown Senior School will welcome boys into each of its year groups.
Commencing at 3.30 pm, the Open Day will give parents and prospective students an opportunity to visit Rathdown School and learn more about its academic and extensive extra-curricular programmes. Attendees will have the opportunity to meet staff, parents, and students who will share their experiences about life at Rathdown School.
Rathdown's Senior School offers both a day pupil and boarding option to students from across Ireland and internationally, offering a friendly and caring home-from-home environment at the heart of the Rathdown community. Boarding will remain for girls only pending the construction of a new boarding wing for boys.
To attend Rathdown School's Open Day on September 18th from 3.30 pm to 7.30 pm, for further details and to register please visit www.rathdownschool.ie.
St Kilian's Deutsche Schule

St. Kilian's Deutsche Schule is a coeducational, inter-denominational School spanning the full educational cycle from Kindergarten to Leaving Certificate. Their environment is nurturing, safe and caring. They value tolerance and difference, and support their students to be independent in thought, open-minded and confident.
St. Kilian's Deutsche Schule live a European educational experience through the languages of German and English through their shared Eurocampus.
The school population is diverse and international. Irish families have supported the school for generations, German families find a second home there and many nationalities, particularly European, are very well represented throughout the school. They celebrate Irish and German traditions with festivals of music, dance and drama throughout the school year.
While their primary education practised in St. Kilian's follows the Irish national curriculum and allows for subject specialist teachers, they also place a strong focus on the German language. German is taught intensively from 1st class by qualified teachers who are also native speakers. Whilst in their Kindergarten (Junior and Senior Infants) students are exposed throughout the school day to German as their class teachers are native German speakers too. It is not necessary for students – or families – to speak German when joining the school. The core curriculum is delivered in English while from 5th class students who are native speakers or who have achieved a high standard in German can opt for a programme which incorporates Science and Maths through German in addition to a more intense German language programme.
Physical Education is an integral part of the core curriculum delivered by Specialist and experienced Sports teachers. The children up to 4th class have a scheduled PE lesson every day. For 5th and 6th classes it is 3 times a week. The facilities are excellent too. They have a hockey astro, a soccer astro, a basketball court, a tennis pitch and a large gym hall with a full suite of gymnastic equipment. The extensive grounds and easy access to UCD offer endless opportunities for outdoor and adventure activities. At the end of the school day families can opt for one of the many, daily extracurricular activities including hockey, soccer, tennis, fencing, drama, chess and art. There is also an Aftercare programme until 5 p.m. each day. Visit on their Open Day on Saturday, 14th of October 2023 from 11:00am to 1:00pm.
St. Kilian's German School Dublin, Roebuck Road, Clonskeagh, D14 P7F2, Ireland or call 01-2883323 www.kilians.com
Rosemont School
Rosemont School, a secondary school for girls and member of the International Coalition of Girls' Schools, delivers a first-class education.
Rosemont pioneered ownership of learning in Ireland; they recognise the student as the driving force in her own educational journey.
A fun, friendly, and academically demanding environment where each girl learns to take ownership of her learning and responsibility for herself. In Rosemont students make life -long friendships and acquire balanced characters through an education of mind and heart.
Rosemont girls are proud of their school. With their coaching and atmosphere of trust and freedom, each girl feels secure in her aspirations to succeed academically and in all aspects of her life. Rosemont girls are informed global citizens, who are taught to lead with courage, competence, and empathy.
Their high academic standards, their ethos, and the way parents and their highly motivated teachers work closely together achieves the best for students.
Rosemont students consistently achieve results.
Situated on Sandyford Road, their 1st class campus is well worth visiting. Please join them at their Open Evening on Thursday, September 28th , 5.30-8 pm. www.rosemont.ie to register.
St. Joseph of Cluny Secondary School for Girls
St. Joseph of Cluny Secondary School is an all-girls Catholic fee-paying school situated in Killiney, Co. Dublin. They were founded by the French Missionary Order of St. Joseph of Cluny in 1956 and are now a member of the Le Chéile Trust.
At Cluny, they offer students an opportunity to immerse themselves in a diverse array of subjects through their curriculum. They support each and every one of their students to fully engage in their subject choices to explore, grow and strive toward excellence. Alongside a diverse academic and curriculum-based subjects, students are also offered the opportunity to delve into their creative sides and hone their talents in co-curricular school activities. They offer students a chance to participate in a wide variety of sporting activities including hockey, badminton and basketball.
They would like to invite all parents and guardians of sixth class girls entering secondary school in September 2024 to visit the school on Thursday 21st of September 2023 from 6 until 8 p.m. They look forward to welcoming you and your daughters to Cluny.
If you have any questions, please do not hesitate to contact them.
Tel 01 2855027
Avondale Road, Killiney, Co. Dublin.
Our Lady's Grove Secondary School
Enduring Values, preparing for the future
Our Lady's Grove is a voluntary secondary school in the Le Cheile Catholic Schools Trust. Our focus is on the empowerment of young women, promoting resilience and responsibility for work and actions, and aspiring to be our best selves. We do this in a warm, friendly, and familial environment where positive relationships are fostered.
OLG students for prepared for their future with a strong concentration on the arts, science, and languages. This focus is supported by the development of critical responsibility in all aspects of digital learning.
If this type of school connects with what you want for your child's future, we would be delighted to welcome you to our Open Evening on October 5th. Please contact our community should you have further enquiries.
Phone 01-2951913 Goatstown
Dublin 14
Email office@olgrove.ie
Facebook: Our Lady's Grove Secondary School
Twitter: @olgrove
Instagram: ourladysgrove
Rockbrook Park School
Rockbrook Park School, a secondary school for boys, delivers a first-class education. At Rockbrook, the foundation for academic excellence is built upon the development of independent thinking and leadership. This is reflected in the school motto, 'Freedom of mind, strength of character'.
Situated in the foothills of the Dublin mountains in Rathfarnham, the school campus is like no other. Their Green School Committee is actively developing this natural environment and all students are focused on creating a sustainable environment from which to learn.
Rockbrook is a wonderful place to go to school. It is a friendly, exciting, and academically demanding environment where each boy develops to take ownership of his learning and responsibility for his actions, makes great friendships and acquires the balanced character strengths that he will need to succeed in school and in life.
Guided by high quality teaching, their students mature in their outlook and have focus and ambition to achieve their highest academic potential. Their comprehensive Transition Year programme focuses on academic development but is also brim-full of extra-curricular activities, ensuring students excel in Senior Cycle.
To learn more about Rockbrook Park School, please join them in their beautiful campus at their Open Evening Tuesday, September 26th , 5.30-7.30pm. www.rockbrook.ie to register.
The Teresian School
The Teresian School in Donnybrook is composed of a Secondary, Junior and Pre-School with the commitment of a progressive and innovative team of teachers. Students are educated in an intimate learning environment and given personal attention from their dedicated teachers. They are a close knit and friendly school akin to a family. The strong sense of community with high levels of respect between students, staff and parents is something which they highly value in The Teresian School. The Junior School is a feeder school to the Teresian Secondary School, which is renowned for academic excellence and consistently appears in The Irish Times top feeder schools list.
At the Teresian School each student's individual talents and skills are encouraged and promoted. They provide their students with the guidance and support to develop their talents enabling them to reach their unique potential. The Teresian School's holistic, inclusive approach to education is based on the principles of Joy, Fortitude, and Love.
The Teresian Junior School has a limited number of places available for the coming school year, with the Secondary School accepting applications for 2024 in October. Visit on their Open Evenings, Secondary School Thursday 21st September 6pm- 8pm
Junior School Wednesday 27th September 4:30-6:30pm
Please contact the school reception or visit their website for more information: www.teresian.ie
Loreto School Foxrock
Loreto College Foxrock – Open Day.
Loreto College Foxrock is a leading, all-girls, private secondary school set on elevated grounds in Foxrock, South County Dublin. A Catholic school in the Loreto tradition (LINK), Loreto College Foxrock enables students to thrive. Here, they value the wellbeing of their students and the unique gifts and talents each girl brings.
At Loreto College Foxrock, they recognise each student's potential to develop her own unique gifts. Their teachers are dedicated and inspire in the girls a love of learning. They expect a high standard of class participation and study. All of their students are challenged to fulfil their potential. Their teaching is centred on the needs of the individual. Current best teaching practice blends traditional methods with modern technology, enabling their students to excel across the curriculum. They guide their students to develop as autonomous, lifelong learners and are very proud of the academic achievements of their students. Many of the girls achieve results in excess of their own expectations. Consistently, academic results in the State Examinations are substantially higher than the national average.
Their Open evening is on Tuesday 26th of September from 6pm, for further information, please contact admissions@loretofoxrock.ie www. loretofoxrock.ie
Rathgar Junior School & Kindergarten
Rathgar Junior School & Kindergarten has been part of the local Rathgar and Rathmines communities for over 100 years and in that time has remained a unique and popular choice for families across Dublin catering for children from Junior Infants to 6th Class. Focusing on interactive and engaging education with small class sizes in a safe and welcoming environment, our children flourish developing key life skills that they will take with them to their chosen secondary schools. They are completely unique in Dublin by being able to offer such a personal and bespoke experience, celebrating individual interests and allowing for passions to grow. They are an official feeder to the High School and have great relationships with other independent Secondary schools. They would be delighted for you to experience the school for yourself during their annual Open Day on the 11th November from 10am. Here, you will have the oppurtunity to meet current pupils and parents and hear first hand how their style of education would be right for your child.
For any questions you may have or to book a private tour then please use admin@rathgarjuniorschool.com or phone 01-4972411. They look forward to meeting you soon.
The International School of Dublin (ISD)
The International School of Dublin (ISD) is the first accredited International Baccalaureate (IB) World Primary School in Ireland.
It is a not for profit, co-educational and non-denominational school for children aged 3.5 to 12 years. ISD is composed of both local and international families, its over 20 nationalities make it rich in cultural diversity.
One of the fundamental goals of education at ISD is to encourage a love of learning. Students benefit from small class sizes, guided by experienced teachers.
Students are equipped with the knowledge and skills to become autonomous lifelong learners. Inquiry based, holistic and innovative forms of engagement promote learning that is process, rather than topic driven.
A varied curriculum provides access to core subjects and additionally, multiple sessions of physical education including swimming, the arts (music, drama, dance), the Spanish language and Irish culture on a weekly basis. Learning goes beyond the classroom walls as students engage with frequent field trips and guest speakers.
A valued option for many families, ISD provides multifaceted before and after school programmes which enhance the curriculum.
Ardtona House School
In Ardtona House School they pride themselves on providing their students with access to the best early years education, with small class sizes where every child's potential is both recognised and respected in a caring environment.
Their newly renovated classrooms are bright, welcoming and offer a learner-friendly environment for both boys and girls from Montessori to 2nd Class. They are fully equipped with an extensive range of educational materials, from Montessori materials to Clevertouch interactive touchscreens.
Outdoor time is an integral part of the school day and the children love their extensive garden space, complete with forest area, den, mud kitchen and plenty of play equipment to explore and enjoy. Their fantastic garden provides a safe and stimulating playing and learning facility all year round, where their boys and girls have a valuable opportunity to learn, play and develop during school and in their after-school club.
Join them for their open morning on Tuesday 17th October, where you will see the students and school in action. In the meantime, take a look at their website and social media pages, which give just a glimpse into the magic of their unique school.