Family, festivities and a fiction debut from Matt Lucas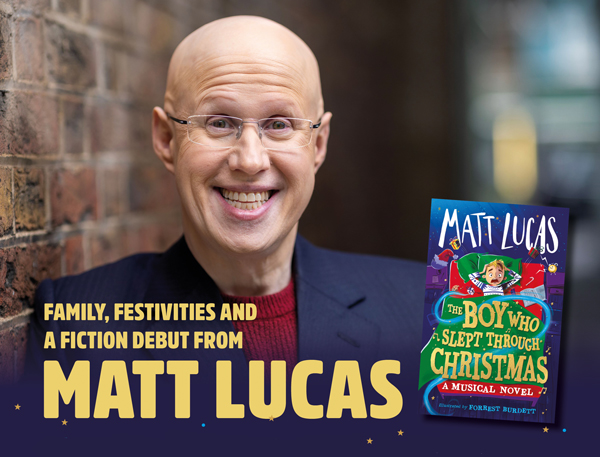 Primary Times talks with actor, presenter, and author Matt Lucas about his highly-anticipated first fiction novel, 'The Boy Who Slept Through Christmas'.
As perhaps one of the most recognisable personalities in British television with several successful films, TV shows and non-fiction titles to date, Matt now takes a step into the realm of fiction writing for children.
'The Boy Who Slept Through Christmas' is a moving, magical and heartwarming seasonal story about a young boy called Leo, aimed at readers 8+. Packed full of humour and adventure, Matt has also written and recorded 20 accompanying songs to bring the joy of a musical to book form for families to enjoy! A festive treat perfect for this time of year, we asked Matt for his thoughts on 'The Boy Who Slept Through Christmas' to find out more…

What does Christmas mean to you, is it a time of year that you look forward to?
I am actually Jewish, but I enjoy the fact that it is a national holiday and I always see my family. Because it is a British tradition, we have roast turkey and play games but we don't have a Christmas tree or sing carols. And yes, we will watch the King's Speech at 3pm.
Where did the inspiration for this festive story come from?
I thought that missing Christmas would be just about the worst thing that could happen to somebody. Can you imagine? So I decided to explore what might happen if you did actually sleep through it, and how you might try and fix such a disaster.
We hear there are some new, original songs dotted through the text! Can you give us any hints on what musical delights the readers might find?
There are - I hope - some funny, catchy songs that you can sing along to with your family and friends - or on your own. And there's one song of mine that some readers may be familiar with already but that's a secret!
Have you enjoyed writing your debut fiction novel?
I certainly have. As I wrote and re-wrote I became very fond of the characters in the book. They almost felt like my friends by the end. Please don't tell my real friends that!
Who is your favourite character in 'The Boy Who Slept Through Christmas' and why?
I think Prisha and Ivan are funny and also good friends to Leo. I think if I ever met Marion and Melvin, they would drive me up the wall.
Are there any future ideas, stories or projects in the pipeline that children and families can look out for?
I've already started to think about writing another musical novel. Also my dream is to turn 'The Boy Who Slept Through Christmas' into an all-singing, all-dancing stage musical!
'The Boy Who Slept Through Christmas' by Matt Lucas and illustrated by Forrest Burdett is out now, published by Farshore, an imprint of HarperCollins Publishers.
Photography © Toby Madden