Noodle Baskets with a Peanut Sauce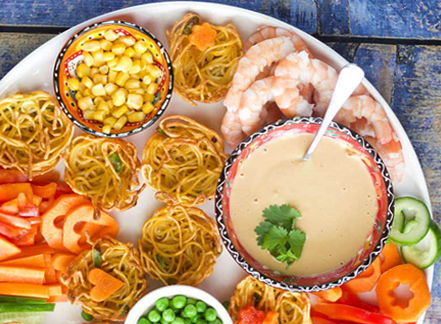 Baked noodle baskets perfect for adding a range of proteins and vegetables. Served with a peanut sauce.
Ingredients:
Noodle Baskets
350 g Fresh Noodles
1 Egg
1 tbsp Sesame Oil
1 tbsp Soy Sauce
1 medium Spring Onion
Peanut Sauce
1/3 cup (90g) Peanut Butter
1/3 cup 80ml Hot Water
1 Juice of 1 lime
1 tbsp Soy sauce
Method
Noodle Baskets
Pre heat oven to 190c / 375F and lightly grease muffin trays (makes 18 muffins)
In a mixing bowl add the noodles, seasame oil, spring onion, soy sauce and egg. Mix until the noodles are fully coated.
Equally divide the mixture between 18 muffin sections. Push the noodles down at the bottom and up around the sides.
Bake for 20 min or until golden and crispy
Peanut sauce
To a mixing bowl add all the ingredients and stir until combined. Noodle Baskets with a Peanut Sauce
Healthy Little Foodies is run by Amy, mum to two little boys with a BSc(Hons) in Food Science and Marketing. Amy used to be a Primary School teacher in Scotland and now lives in Sydney, Australia. Follow Healthy Little Foodies on Pinterest andInstagram.