2019 School Tours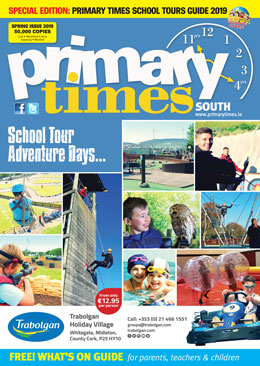 TRABOLGAN HOLIDAY VILLAGE located in East Cork has established itself as one of Ireland's most popular Day Group Outing and School Tours destinations. It's the perfect location for your club or schools' outing with a host of activities sure to delight including educational and physical activities for all ages. Explore indoor activities such as the Indoor Sub Tropical Swimming Pool; Bird of Prey Educational Centre; and our Jungle Safari indoor playground- to a host of exciting outdoor adventure sport activities from Go-Karts, Zip Wire, Bungee Trampolines and much more...
Hold on tight and enjoy the fun under the safe supervision of the qualified and experienced Trabolgan Adventure Sports (TAS) team. Whatever type of adventure activities or educational trip you are looking for; there is a fantastic range of activities on offer for toddlers, kids and teens that will not disappoint! From hands-on adventures, birthday party entertainment ideas through to abseiling and Combat Laser, that are sure to delight all age groups. Why not visit the Bird of Prey Centre which holds a Trip Advisor Certificate of Excellence; learn about stunning birds from around the world which links to the national curriculum objectives. With packages from as little as €12.95 pp, organising your group outing has never been so reasonable and most importantly, stress free. See www.trabolgan.com for more, email groups@trabolgan.com or call 021 4661551
Trabolgan Holiday Village, Whitegate, Midleton, Cork P25HY10
LEAHY'S OPEN FARM near Midleton, East Cork, is educational, adventurous and seriously fun for school groups from junior infants to 6th class. Feed and pet a huge variety of animals such as hens, ducks, alpaca, and a camel. Play with the rabbits and mice; touch and maybe even hold Houdini the snake! Explore large outdoor play areas, soft indoor Playbarn, Quad and Barrel Train rides, Climbing Frame, Adventure Trail, Crazy Golf course, large maze, and a big 'drop' slide and pedal go-karts. History and education: experience a 100-year-old dwelling house on a working farm and farm machinery from the time. Learn about tradesmen tools, horse drawn machinery, early Irish public transport; and see the Old Irish Crannog! Hot food available in the coffee shop or bring a packed lunch along. Groups can make their own chocolate lollipop for an extra €4 per child, in the new Ice-cream & Chocolate Factory! Farm prices €9 per child - one adult free per 10 children. Complimentary tea & scones for free adults. Call 021 4668461 / 083 8488142 E: info@leahysopenfarm.ie www.leahysopenfarm.ie
The story of YOUGHAL CLOCK GATE TOWER is unique on a national if not international level, spanning 600 years to the present day. The building being used as a 'gaol' precedes even that of Kilmainham Gaol and Wexford Gaol heritage sites. Learn all about the McGrath family who lived in the Tower and hear directly from John McGrath now in his 70's and still living in Youghal. John tells the tale of his life from being born in the Tower and the tough conditions his family endured, through a wonderful audio visual presentation. A visit to Youghal Clock Gate Tower is a 'hands on, minds on and hearts on' experience, with wonderful storytellers, dressed as 'time', explaining and describing, encouraging participation and inviting questions. Special Group & Combined rates are also available. Call the tours office on 024 20769 or email tours@youghalclockgate.ie www.youghalclockgate.ie and follow on Facebook and Instagram!
LEISUREPLEX CORK offers an extensive range of School Tour packages to suit all ages. Choose from a range of activities including bowling and Quasar to create your perfect School Tour day. Bowl your way to the best tour ever with fantastic bowling lanes or battle it out in Quasar and see who the Top Gun is! Can't decide on one activity? Leisureplex has it covered with a range of amazing packages which allows you to select any two activities to create the School Tour trip you want. Mid-week offers from €5 per child. Special group rate offers (Cork only) include: one activity from €5 and two activities, bowling and quasar from just €9 per child (Mon – Thurs). For more information on Leisureplex Cork group rates, special offers and to book a School Tour please call Leisureplex Cork on 021 4505155 or visit www.leisureplex.ie
School Tours are now booking for 2019 at FOTA WILDLIFE PARK! PRIMARY SCHOOL TOURS provide a greater appreciation of wildlife and are suitable from Junior Infants up to 6th class. Tours are simplified or more challenging depending on age, are based on national education syllabus requirements and tailored to compliment classroom work. GUIDED EDUCATIONAL TOURS add a touch of the WILD to your class visit with fun and informative education programs! Make a connection with wildlife with a tour of the park and find out what daily life is like for its 1000+ residents! Explore the Tropical House, Animal Care Building, and meet many native species as well as exotic wildlife. Students are introduced to woodland ecology and learn what an ecologist does. Pooters, pitfall traps and beating trays are used to explore a native Irish woodland and to capture and identify its many inhabitants! Cost €11 per student (including entrance fee). Tours last 2 ½ hours with a minimum group size requirement of 20 students. Group meal options available. For more information or to book contact the Education Department on 021 4812678 ext. 206 or email education@fotawildlife.ie
Teachers planning a school tour can relax with a visit to WILTON SHOPPING CENTRE as part of their itinerary in Cork. School tours are welcome all year round, with a host of facilities that will help take the strain out of your journey. There is free bus parking, so parking is never an issue. With over 60 shops and a selection of coffee shops under one roof and big brand names such as Swamp, New Look, Penneys, Claire's Accessories, Lifestyle Sports and Game Stop, and more. Wilton Shopping Centre is open 9am - 7pm Monday to Wednesday and 9am - 9pm on Thursday and Friday. Saturday opening hours are 9am - 7pm, and Sunday /Bank Holidays from 12pm-6pm. For more information see www.wiltonshoppingcentre.ie or call 021 4546944.
Coming soon to Michael Collins House, Clonakilty- The War of Independence Exhibition.
Coinciding with the Centenary of the Irish War of Independence MCH presents an exhibition dedicated to the war in addition to the normal House Tour. Get a full overview of how the war unfolded and a specific look at West Cork, one of the most active regions during the war. Michael Collins House is a museum dedicated to Michael Collins and the story of Irish independence; offering an engaging insight into the life of Michael Collins and much more. History is brought to life through guided tours, displays, audio visuals, original artefacts, information boards, activity sheets and more. Tickets are just €5 for adults and €2 for children (family tickets €12), offering an affordable, educational and entertaining experience that is suitable for all ages.
Special rates are available for groups and school tours. Tours can be tailor made to suit your needs, time available, and help to tap into the school curriculum in a uniquely engaging way. Teachers/leaders go free. For more information or to request a school information pack contact 023-8858676, email info@michaelcollinshouse.ie or visit www.michaelcollinshouse.ie
BALLYHASS ADVENTURE GROUP has two locations – in Mallow & Coachford. Ballyhass Mallow has been providing award-winning Land, Water & Height School tours for the last 10 years. In 2018 they opened Ballyhass Coachford. Starting with a 60 person Aquapark last year, Coachford is now been expanded to offer the same level of school tour that Ballyhass is known for. There are over 15 different activities to choose from in Mallow. In Coachford they are launching brand new Multi-Activity Zones that includes indoor Archery & Axe Throwing Ranges, Bear Grylls style Bushcraft schools and a custom build 60 person assault course with cargo climbs, giant swings and ninja run up walls! School tour bookings in June are usually full by January at the latest - but there will be availability running back into May. Please call 022 27773 for more information or email:info@ballyhasslakes.ie and visit www.ballyhass.ie to download the 2019 school programs.
School Tours at Ardmore Open Farm & Mini Zoo combine an educational theme with an action packed fun day out, in a custom-built family facility. Children have the run of a full indoor three-tier play centre, zipline, soccer pitch, playground, go-karting area and sand pits. They can also get up close and personal with all the farm and zoo animals with a guided tour around the facility. Dedicated petting times are included where children get to hold different species of small animals from rabbits to tortoises and snakes to owls. For competitive school tour rates, please e-mail info@ardmoreopenfarm.ie or call 024-87600.
THE LISMORE SCHOOL TOUR ADVENTURE Pick and choose a full day of activities to suit your class for €15 per student in Lismore, Co. Waterford. HORRIBLE HISTORY: gruesome outdoor workshop at Ballysaggartmore Towers. WOODLAND WANDERERS: Interactive forest fun using drama to re-enact history; followed by Bug Bingo to meet creepy crawly inhabitants. PROFESSOR PUPPET'S WORKSHOP: Create design and decorate your own glove puppet. SCRIBBLE SQUAD: Giant doodle activity creating a class masterpiece to take back to your school. PUZZLE IN THE PARK: Work as a team to solve riddles and puzzles in Millennium Park. DIG-IT: Awesome archaeology in a STEM workshop for hands-on, interactive fun in the designated digging area! Activities are suitable for all ages *Horrible History 1st Class upwards. Lismore Heritage Centre has over 20 years' experience in the education sector. Lismore Mobile Science Workshops can also visit your school to deliver a wide range of science-based, curriculum led workshops. Please call 076 1102157 E: rleddy@lismoreheritage.ie visitwww.discoverlismore.com
SCHOOL TOURS – NATURE EXPRESS Board a heritage train at Kilmeadan station Co. Waterford to journey through the countryside and along the banks of the River Suir, beside Waterford Greenway. Disembark the train at Carriganore where nature guide and author, Paddy Dwan will take you on another journey through nature. Discover the wonderful bird life, flora and fauna along the banks of the River Suir, with a little bit of archaeology and social history thrown in. Paddy is passionate of about this historic area and he loves to share it with and enthuse others. You can explore and learn as you walk along the safe and beautiful Waterford Greenway. This School Tour is both fun and educational and suitable for all ages. Cost €10 per child, teachers free. Alternatively, school children can enjoy a 50 minute train trip beside the River Suir, make a wish in the Magic Wood and journey through a 40m tunnel. They do not get off the train until it returns to Kilmeadan Station. Cost €4 per child, teachers free. Tel 051 384058 www.wsvrailway.ie
WATERFORD TREASURES – EPIC TOUR OF THE VIKING TRIANGLE
The award-winning all weather guided tour of the oldest part of Ireland's oldest city, the 'Epic Tour of the Viking Triangle', is an interactive fun guided tour of the Viking Triangle, taking in six national monuments within one hour. The larger-than-life guide speeds you through the streets and through 1100 years of Waterford's history from the Vikings to Victorians!
Discover Reginald's Tower, Greyfriars Medieval Franciscan friary, Choristers' Hall, the Mayor's Wine Vault, Bishop's Palace, and (if a church service is not in progress) Christ Church Cathedral is also included. It's a fun, engaging tour with many props to engage and entertain children, and numerous photo opportunities along the way. Don't miss the 'Mayors through the Ages, Eight Centuries of Civic Government in Ireland' at City Hall.
Bookings 0761 10 2501 or email: bookings@waterfordcouncil.ie www.waterfordtreasures.com FB: WaterfordTreasures Twitter@WFORD_Treasures
The Lafcadio Hearn Japanese Gardens are set in the beautiful seaside town of Tramore, County Waterford. School Tours are a speciality and can also be customised on request for groups of all ages. The gardens have a wonderful and unique story to tell around the life journey of Lafcadio Hearn a very famous writer who spent his childhood summers in Tramore and whose stories are still told to school children in Japan today. There is a Victorian, American and Greek garden as well as Japanese gardens and interesting woodlands. Children can enjoy the magic of the gardens while also learning some Japanese culture and phrases from a tour guide. Tours lasts approximately one hour cost €3 per child, and younger children are given a discovery trail. Tel: 087 0960013 info@lafcadiohearngardens.com www.lafcadiohearngardens.com
ZIPIT FOREST ADVENTURES is a treetop high ropes course set in the beautiful Coillte forests of Farran Wood, Co. Cork. A place where students can enjoy an exhilarating and challenging outdoor activity in a natural setting, building confidence, teamwork and self-esteem. Swing into cargo nets, whizz down ziplines, trek across a floating bridge and be immersed in stunning countryside. Energetic instructors will encourage and motivate even the most nervous student, creating a lasting sense of achievement - with circuits for every fitness level. Teachers can participate alongside students – or watch from terra firma! Free participation and free tea and coffee for all teachers. Cost is €15 per primary school student (3rd class upwards) with activities lasting approximately 4 hours. Zipit can take up to 150+ students in any one day. With parallel Safety briefings, they ensure a streamlined day and also cater for small schools and classes, with no minimum numbers, subject to availability.
Zipit provides students of all ages the opportunity to experience perceived risk in a controlled environment. Zipit safety harnesses are designed with a dual safety element, eliminating the risk of accidental removal of both safety devices on the course. Students are fitted with a harness by a trained Instructor and given a safety briefing. Zipit operates to the highest EU safety standards. Instructors hold European Ropes Course Association qualifications and are first aid trained. Please contact 051 858008 and visit www.zipit.ie Locations: Farran Wood, Cork; Lough Key Forest Park Roscommon, and Tibradden Wood, Dublin 16.
LITTLE RASCALS at Majestic Business Park, Mallow is a large indoor place centre, ideal for school tours in Cork. Packed with super spiral slides, astra slides, aerial gliders, large ball ponds, an assault course, and indoor football and basketball areas. Able to cater for up to 250 children, Little Rascals offers special group rates for school tours, pre-schools & creches, and youth organisations. There is also a large under 5s and baby area, so little ones can have their own fun! Children can bring their own lunchboxes, or you can choose from a range of hot and cold food on-site. Free juice for children, and tea/coffee for teachers and helpers. Bundle up a trip to Little Rascals if you're on the way to Thomond Park, or stop off in Doneraile Park or The Donkey Sanctuary. For competitive rates, please call 022 51408 or email info@littlerascals.ie Remember to quote PRIMARY TIMES
MUNSTER RUGBY EXPERIENCE MUSEUM at THOMOND PARK STADIUM With easy access for coaches and improved facilities, the Museum is an ideal stop on your school tour day. Located close to many attractions in the Shannon region, why not take in some sporting history as well as Irish history? Take a guided tour of the spectacular Thomond Park Stadium, from a seat in the home dressing room to a walk down the tunnel. Also included is a visit to the interactive museum and specially commissioned film showcasing the proud heritage of Munster Rugby. With ample parking and easy access to all major routes, the stadium is perfect for primary school tours!
QUOTE 'PRIMARY TIMES' WHEN BOOKING FOR €5 PER PUPIL ON 061 421100 OR EMAIL: museum@thomondpark.ie TO CLAIM THIS SPECIAL SCHOOL TOUR RATE
SHANNON HERITAGE SCHOOL TOURS
King John's Castle Limerick: King John's Castle in the heart of Medieval Limerick allows students to experience 800 years of history in a stunning exhibition. 21st Century touch-screen technology and 3D models connect students to tales of siege and warfare. Costumed guides will tell you secrets and scandals of Castle life… meet a blacksmith, moneyer, Norman soldier and Siege women of the time. Shannon Heritage has teamed up with Get West to include water zorbing, 30ft climbing wall, foot darts, archery and other activities in June 2019.
Bunratty Castle & Folk Park: Step back in time and discover Ireland's rich and fascinating past. Sample 19th Century Ireland through a series of fun and engaging workshops. Enjoy archery, 19th century baking and animal husbandry. Have lunch in the picnic area beside a playground with a Viking head play ship, zip wire and swings and slides.
Craggaunowen – The Living Past Experience: Ireland's original award winning pre-historic park. Discover the roots of the people, homesteads, animals and artifacts of our Celtic ancestors of over 1,000 years ago. Witness the inner workings of a 16th Century Castle from the perspective of a servant and discover the secrets of a ring fort and Crannog as a chieftain. See rare and ancient animal breeds such as soay sheep, specimens of the pre-historic era.
Shannon Heritage School Tours reservations - 061 711222 or email: reservations@shannonheritage.com
Four great new activities for School Tours in 2019 can be found at FOOTGOLF CORK on the outskirts of Kinsale Co. Cork! Choose from FootGolf, HurlGolf, ArcheryTag or NerfWar on the first and only purpose built FootGolf course in the South of Ireland. FOOTGOLF – this is the game that blends football and golf into one great sport! Get outdoors and active around beautiful scenery. HURLGOLF – the latest craze combining hurling and golf! ARCHERY TAG GAMES – think dodgeball with bows and padded arrows, in an outdoor Battle Arena. TagArchery is a versatile sport, similar to paintball with teams pitted against each other. A great team sport -teaching new skills whilst having tons of fun! NERF WAR GAMES – offers a taste of what is available in Tag Archery, but for younger players. Teams can pit their wits against their friends and use up lots of energy outdoors, in this fun and fast paced game. Hot food options are available in the on-site café, with competitive rates for school and group bookings and birthday parties.
Call 021 427 4294 or email info@footgolfcork.com and visit www.footgolfcork.com or www.tagarchery.ie
The MAXI ZOO RESPONSIBLE PET OWNERSHIP ROAD SHOW is a FREE education programme for primary schools to help educate the next generation on how to be responsible pet owners. The Maxi Zoo team spends about 40 minutes discussing various topics around pet care with each group at your school and children may get to meet and greet a pet on the day! Road Shows are suitable for 4 -12 year olds and are adapted with age appropriate information for different classes, so that children learn and have fun at the same time. The team discuss how to care for pets; talk about animal welfare – how to be kind to animals and never harm them; the responsibility of owing a pet; and teach children how to act safely around dogs. Maxi Zoo is Ireland's largest pet retailer with 20 stores nationwide, employing more than 160 people in Ireland. They have a fantastic website full of excellent articles on animals www.maxizoo.ie and a fun page on Facebook at FB/maxizooireland
If you would like to apply for a FREE Maxi Zoo Responsible Pet Ownership visit for your school, please email: emma.fanning@ie.maxizoo.eu or write to: Responsible Pet Ownership Road Show Dept, Unit 7, 1st Floor, Westpoint Business Park, Ballincollig, Co. Cork.
The Irish National Stud & Gardens are excited to launch their new interactive 'Kick Back to Nature Tour'. Their school tour provides a unique opportunity for school children to get up close to horses and wildlife in a relaxed and natural environment. 'The Wonder of the Horses, from foal to legend' gives students an opportunity to learn about this fascinating industry and enjoy hours of pure freedom. Watch children interact on a 45-minute tour of a working stud farm and afterwards they'll enjoy a fun, activity session in a classroom where they can touch and try on a range of equestrian equipment. This tour will encourage them to think about conservation, pollination and habitats required for wildlife to thrive also.
For those looking for a more relaxed approach, the Irish National Stud can also provide a basic package that includes a 45-minute tour of the grounds. After the group can enjoy exploring the gardens, the fairy trail and having fun in the playground. For more information visit wwww.irishnationalstud.ie.