Primary Times South magazine is the FREE local 'what's on, where to go' guide for families with children under 12 years and primary school teachers & staff. Our free magazines provide a print and digital platform to reach this niche readership of parents and schools in Cork, Kerry, Waterford and Tipperary.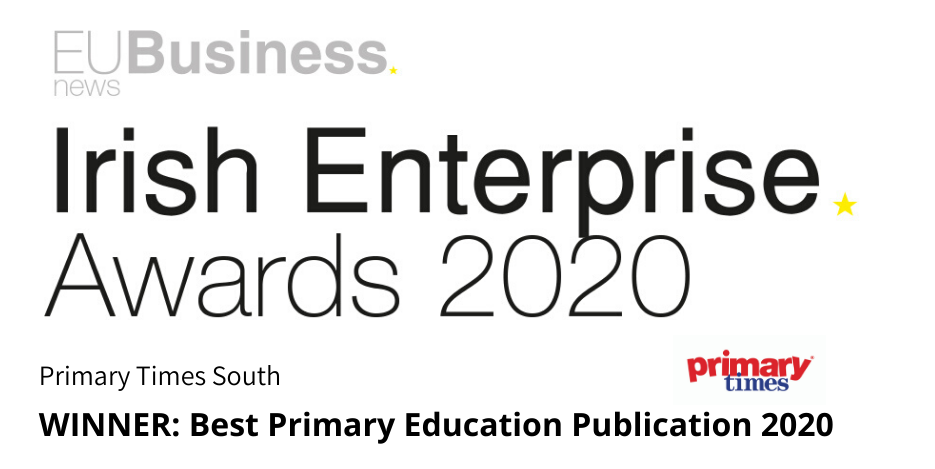 HERE'S WHAT OUR CUSTOMERS HAVE TO TO SAY...
We use Primary Times magazine to engage with young families throughout Ireland. It provides a direct and cost effective means of communicating with Irish families and forms an integral role in all our advertising campaigns as it consistently delivers tangible results.
- Gleneagle Hotel Killarney
As a popular destination for families, we find Primary Times South Magazine is great for spreading awareness of our events and facilities to parents in the Munster region. Both informative and fun to read, it offers our shoppers useful information about events and products that are relevant to them.
- Mahon Point Shopping Centre Cork
Primary Times South is a particularly suitable publication for us, as it is aimed at our exact target audience – families. I don't believe another publication exists in Ireland that is as widely distributed or contains such a wealth of information.
- Quality Hotel & Leisure Club Clonakilty
We have been using Primary Times South magazine for several years now. Its target audience suits us perfectly and we get a very good response and feedback from our ads. They are also great to deal with!
- Perks Entertainment Centre Youghal
I really hadn't anticipated the response from an advert in Primary Times South magazine in such a short space of time. I am new to the market and as a new venture I wasn't expecting much of a response, but thanks to Primary Times my summer camps kicked off with bang!
As a young mum of four I understand that every parent wants to have a publication that's easy for the kids to navigate and also easy for the parents to pick and choose what events may suit their family lifestyle. I look forward to the issues when my kids bring Primary Times back from school as it also gives me an opportunity to see what aspects of leisure are on my doorstep and to support our local businesses.
I would have no hesitation in advertising again with Primary Times and for those that are thinking it may be a good idea, trust me it's a great idea!
- A Touch of Magic Cake Academy Cork
It is my absolute pleasure to recommend Primary Times South as our media partner. We have been delighted with the feedback we have received from our advertising. The targeted marketing of Primary Times South as a must have for families with children of school going age, has matched perfectly with our overall advertising strategy selling Citywest Hotel as a Dublin family resort. I would have no hesitation in recommending them to others considering advertising. We look forward to another successful year with Primary Times!
- Citywest Hotel Dublin
Primary Times has provided me with a wonderful way of getting my message and business into family homes all over Ireland. It has proven time and time again to be successful with orders flying in the door as the magazines are distributed. The service is friendly, efficient and they will bend over backwards to help you get the right message across.
- Pinatas Pinatas
We have been advertising with Primary Times magazines now for a number of years and find it a valuable method of reaching out to families; one of our main target audiences. As it is for a highly targeted audience we know exactly what we want to sell to that market segment and so we can push our family offers extremely effectively. It helps to maintain our National Brand Awareness with families and parents while doing so in a very local way through the schools.
Primary Times are very flexible, easy to deal with and always have a very short response time and we would hope to maintain our relationship with them for many more years.
- Select Hotels of Ireland
We have been working with Primary Times for a number of years now as this niche print media has an unique reach for both our family holidays and school tours market. We look forward to our continued work with them for the 2014 season.
- Trabolgan Holiday Village Cork
We have been successfully promoting our family friendly resort, the Quality Hotel, Youghal with Primary Times on several editions of Primary Times. We find it an excellent avenue to reach our prime market, which is Irish families - with first rate results.
- Quality Hotel & Leisure Centre Youghal
We have been advertising with Primary Times magazines for the last number of years. A big thanks to Tara and all the staff for all their help with our advertising. Tara and the team are very professional and efficient to deal with. We find Primary Times Magazines the best Irish family magazines to advertise in for our nationwide summer camps as we know that 1000's of parents and children will view our ad. Let's Go! was delighted to be awarded as one of the top summer camps for 2010 by Primary Times Readers. We wish Primary Times continued success and we look forward to lots of referrals again this summer.
- Let's Go! Summer Schools Ltd
It has been proven that advertising in Primary Times does work. Whenever I have advertised in the magazines I have seen a huge increase in website hits to www.3Mfuturewise.ie This is a great way to reach all family members, and schools and teachers. There is something for everyone in the magazines, articles for parents, games for kids and much more. I would certainly recommend advertising in Primary Times magazines, they make it so easy.
- 3M Ireland Limited
As a new business starting out, Primary Times South has been my most effective means of advertising. Primary Times is the perfect way of getting me in touch with both parents and teachers. I can always tell the week that each edition is out due to the increased number of enquiries, however, due to its long "shelf life" enquiries come in over the 3 month period until the next edition. Due to the fact that there is an editorial feature, it gives me the additional opportunity to explain what exactly Hands on Science has to offer to readers. The editorial and design team have been very efficient to deal with and have helped bring my ideas to fruition. They also know their target audience.
Primary Times looks fantastic – it's grown incredibly. It continues to be by far the most effective means of advertising for me!
- Hands on Science
We have had fantastic feedback from the Mobile Climbing Wall article!
- Dunmore East Adventure Centre Waterford
Irish Water Safety considers Primary Times to be one of the most effective means of targeting parents, children and family members. The notable increase in public enquiries following the publication of each issue testifies to excellent value-for-money and confidence that we are reaching our target market.
- Irish Water Safety